Recipe Number One Hundred & Ninety Five:  Page 39.
Mary's Madeira cake is the very first recipe within the pages of the Baking Bible. It is where it all begins! Although I've eaten shop bought Madeira cake in the past I've never ventured to bake my own. I found the few that I tried to be rather plain and dry. I assumed that any home baked effort would lead to the same results, so I never gave it a second thought. So many bakers consider this to be a staple cake recipe - a regular visitor to their cake tin. I feel a little ashamed having to admit that this is my first attempt! I suppose that we must all start somewhere; I was looking forward to giving it a try. I hoped it would not turn out as plain and dry as I feared!
Over the past month or so catching a glimpse of sun is quite a rarity, so I was most excited to wake up to glorious sunshine. I had to take advantage of the wonderful weather. A trip to the park was in order. It was a little on the chilly side when we first set off but, by the time we'd arrived at the swings, it was baking hot. Isaac was glad to be free of his coat and was soon charging around. He didn't want to go on the slide or climbing frame; he just wanted to run. His Daddy has taken part in plenty of marathons, so it must be in his genes. It certainly doesn't come from me!! I took the time to take in the views. It was so nice to see leaves back on the trees. At this time of year everything is new and such a lovely fresh shade of green.
After we had said goodbye to the park it was on to the shop. I needed to get some bread, eggs and some sweeties to boost my flagging energy! Isaac is well known in the shop for his sunny smile and constant singing. We weren't in there for more than ten seconds before his fan club flocked around him; he, of course, lapped up all the attention!! He won't be able to fit his head through the door soon!
By the time we were home the sunshine, along with a couple of chewy sweets, had given me enough energy to carry straight on and make the cake! I thought I should take advantage of this strange sensation as no doubt it would soon fade!!
In her short introduction Mary makes a point of mentioning that it is essential that the butter has a creamy spreading consistency. It was obvious that I should take this instruction very seriously, so I'd left the butter out of the fridge over night. It was indeed very soft when I came to weigh it into the mixing bowl. I required the same quantity of sugar. I really should have bought some more at the shop as I only just had enough. I hope I remember to buy some on my next trip but it's highly unlikely!!!
At this point I realised that Isaac was unusually quiet. I peeked into the living room. He was sitting on the floor merrily ripping a piece of kitchen towel into tiny pieces. Messy, but at least he was happily occupied! I collected the self-raising flour on my way to the scales. I shook it from the bag and, just as I was about to reach the exact amount, a great heap fell out. I had to grab a spoon and hastily put back the 60g excess! Next it was time to retrieve the ground almonds. I keep mine in an old screw top jam jar. I spent what seemed like an eternity trying to open the lid. I tried prising it open with my hands; this hurt quite a bit, so I moved on to whacking the lid against the side of the worktop. I even attempted to open it with a knife! Eventually it admitted defeat and I was able to unscrew it. After adding the modest quantity of ground almonds into the bowl I very gently screwed the lid back onto the jar!!
I grabbed the box of eggs from the shopping bag which was still on the floor. I'd completely forgotten to unpack it; luckily I hadn't bought anything frozen! Once I had cracked in a few eggs I moved on to the last ingredient, a lemon. My lemon was super sized. The biggest I had ever seen! Normally I make sure that I grate off every last bit of rind but, on this occasion, I wasn't fussed if I missed a few bits! Now I had all of my cake ingredients in the bowl I could bring out the big guns and use my electric whisk. As usual Mary is quite particular with her timings. I was to whisk for one minute. I really should invest in a stop watch!!! After the minute was up the thick mixture was perfectly smooth and ready to go into the lined cake tin.
It went into the waiting oven for about half an hour. After the half an hour I was supposed to place a thin slice of citron peel on top. The citron peel had put me off making this recipe before. I had looked into making my own and had had an unsuccessful search in shops. It suddenly dawned on me that I was putting in a lot of effort for one single solitary strip of citron peel. Quite frankly there are more important things to worry about it! I noticed in another of my Mary Berry books that she'd used a few pieces of chopped candied peel on a Madeira cake instead. I have plenty of candied peel on my shelves to use up, so that would have to do! So, after the half hour cooking time, I pulled the tin from the oven, sprinkled just a few pieces of peel onto the middle of the cake and then placed it back into the oven for just over half an hour.
I was disappointed when I took the cake from the oven; it was a little too golden brown for my liking! If only I had checked it a few minutes earlier! I left it to cool in the tin for the suggested ten minutes and then tipped it out onto a wire rack to cool completely. Thankfully, my cake didn't sink. However, Mary includes a handy tip for cakes which do. For a sunken fruit or Madeira cake Mary suggests turning it out onto baking parchment on a cooling rack upside down. The action of gravity and the weight of the cake will level the top while it cools. I had never thought of doing this but will be doing so in future should the need arise!
When the cake was cold I cut a slice for me and Isaac to share. It wasn't dry or plain as I had feared – in fact far from it. It was light but at the same time a dense and robust cake. The only dry bits were the edges, which were a little bit crunchy due to being over cooked! The discreet almond flavor and the hint of zingy lemon unsurprisingly combined beautifully. They are a match made in heaven! This cake really exceeded my expectations. It just goes to show that you can't compare shop bought to homemade!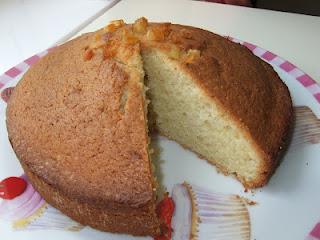 Doesn't look great but it was a lovely cake!