By Sumitra on April 3rd, 2012 Category: Funny, News, Pics
If we can have warm clothing for our heads, hands and feet, why leave out male genitalia? That's exactly the attitude of the Croats, who used hand-knitted woolen penis warmers in the past. The centuries-old tradition has now been revived by a 55-year-old Croatian woman, Radmilla Kus. An avid knitter, she started off by making slippers for tourists, but her 'willy warmers' have turned out to be far more popular. When the orders started pouring in she just couldn't keep up with them, so she had to hire a small army of knitters. Radmilla also conducts 90-minute courses, showing participants how to make the warmers
Winters in Croatia's mountains are so severe that frost-bite was a serious problem for men in the past, especially during long horse rides. So to avoid permanent damage to their genitals, the warmers, called "Nakurnjak" came into use. They were more popular in the Mrkopalj mountain region of Croatia, where wives would knit penis warmers for their husbands. According to Radmilla, "Wives believed that keeping their man's private parts warm allowed him to remain fertile and increased their chance of having children." It's funny, because in hotter countries such as where I come from, men are advised to keep their genitals cool to improve fertility!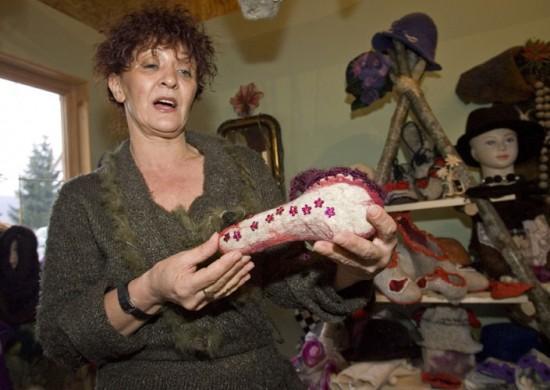 Photo: Depo.ba   http://on.aol.com/video/how-to-keep-toasty-with-a-penis-warmer-517316022
Radmilla's penis warmers are made to order, for which the measurements of each customer need to be taken. Just like in the old times, she says. Of course, if people are shy, they can measure themselves and provide her with the numbers. "Everyone wants XXL, although M would be sufficient. Such is the male ego," she says. Radmilla is thrilled about the fact that her revival of the long-forgotten tradition has paid off wonderfully. She's even been invited to speak about her products in the US, where she plans to present a personalized gift to President Barack Obama. I wonder how she would get hold of his measurements, though. She'd probably be better off playing it safe with an over-sized one!