As you all may know, I'm a PBS geek from way back. Like, way back when TVs had knobs. My dad and I used to watch The French Chef, Lidia's Italy, and Simply Ming on our living room floor on lazy weekend afternoons. With all that expert instruction, though, my dad's best cooking skill remained opening a can of pineapple chunks and pouring me a glass of the juice.
Culinary ineptitude aside, I was thrilled upon learning that Ming Tsai, chef, author, restaurateur, and Emmy-nominated television host, would be presenting a cooking demonstration in conjunction with Macy's Culinary Council from his new, interactive cookbook, Simply Ming in Your Kitchen: 80 Recipes to Watch, Learn, Cook & Enjoy (Kyle Books, 2012).
During his presentation, Chef Ming covered knife skills, determining the freshness of produce, and proper handling of meat. He also discussed food allergy substitutions, his preference of fresh herbs and spices over jarred, and how to create a savory pan gravy. He also took general and specific questions from the audience about cooking techniques, food safety, and achieving ideal seasoning of meats, soups, and sauces.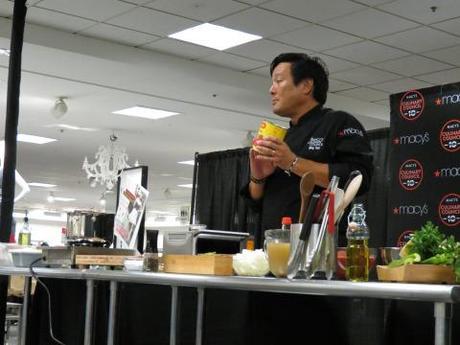 In addition to providing several useful culinary tips, Chef Ming demonstrated and allowed the crowd to sample three recipes from the book, including Quinoa and Tomato Soup, Chicken-Onion Meatloaf with Sambal Worcestershire Gravy, and Almond Oatmeal Cookies/Ice Cream Sandwiches, all of which can be found, along with other recipes and videos created by today's hottest chefs, at Macy's Culinary Council. These recipes are not only delicious, but also sure to win over even the most discerning family members.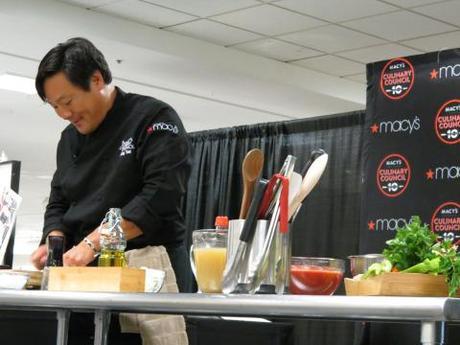 Chef Ming presented his new book, Simply Ming in the Kitchen, boasting 80 new East-West recipes, which is interactive on every level, perfect for today's family. Each recipe has its own unique QR code, which provides the user with a shopping list for that recipe. In addition, you can watch videos on specific item preparation (like sushi rolls) and see entire recipes come to life at Ming.com.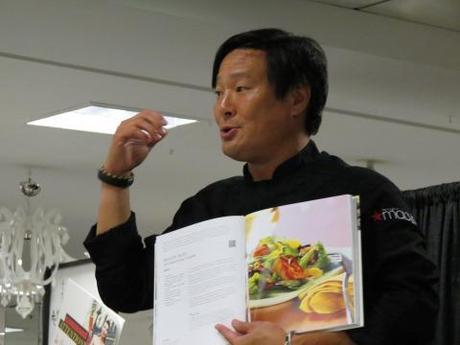 Overall, Chef Ming was as charming and professional as one would expect, the recipes were easy to execute, and they all smelled amazing.
On a personal note, my husband and I dined at Chef Ming's restaurant, Blue Ginger, in Wellesley, MA, just a few short days later, and we were duly impressed. The staff handled my multiple food allergies with the deft hands of well-trained professionals. On top of that, the food was excellent. I highly recommend it. If ever in the area, you simply must stop by.
Spice up your family's lives with the great resources at Macy's Culinary Council and Ming Tsai's new interactive book, Simply Ming in the Kitchen.
Disclosure: I am a member of the Everywhere Society and Everywhere provided me with compensation for this post about Macy's and Ming Tsai. However, all thoughts and opinions expressed herein are my own.