A few months ago, I was watching the adorable 
Loraine Pascale
on her "
Baking Made Easy
" show. I am so impressed that she has been able to keep her model, svelte figure while concocting those glorious, sugarfest baking delights. One of the episodes had a piece on Macaroons and for inspiration, she travelled to Paris and featured the distinguished
Pierre Herm

é

's
boutique situated in the very affluent Rue Bonaparte. Of course, the French call them Macarons, the English say Macaroons but being Scottish, Macaroons refer to something altogether different; a sweet confection made with sugar, coconut and chocolate. So, to avoid confusion, I will call them Macarons, comme les français!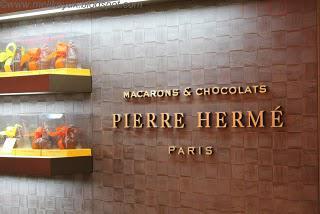 Pierre Hermé at Drugstore Publicis, Champs Elysées
There is much debate as to whether the Macaron is derived from France or Italy, but the Macaron as we know it today is a 
creation of Pierre Desfontaines of the renowned French pâtisserie 
Ladurée 

comprised 
of 
two almond meringue discs filled with a layer of buttercream, jam
, or ganache
 filling. Read about my visit to 
Ladurée 
here.
I visited Paris a couple of months ago, and while I was keen to visit the Pierre

Herm
é
boutique on the Left Bank, due to time constraints, I ended up going to the Pierre

Herm
é
counter at Drugstore-Publicis on the 
Champs-Élysées
. On a very average Wednesday, the popularity of Pierre's macarons does not diminish so I had ample time to decide on my macarons of choice.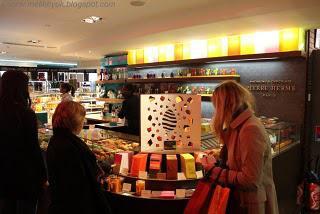 Easter Collection at Pierre Hermé

I opted for 2 gift boxes of assorted macarons priced at 24
€
 each. Each box contained 12 macarons and is accompanied by a menu card. Some of the macarons are only available depending on the season which I thought was a real savvy way to take advantage of seasonal flavours.
I bought these macarons in the lead up to Easter (end of March/start of April).
Reflections of the macaron tasting;
Those I would try again:
As the name suggests this flavour packs a powerful, intense chocolate punch using Porcelana dark chocolate from Venezuela.
With a salted buttery caramel. Lipsmackingly good.
As soon as you taste this combo, you are all at once feeling familiarity but it takes a while for you name the vanilla and caramel ingredients. A really light and enjoyable flavour.
A composite of milk chocolate, passion fruit, banana and candied ginger. Wonderfully exquisite!
With an amalgam of  milk chocolate and passion fruit, I did not think that this alliance was ever going to work but trust me it does! The chocolate is subtle enough to give way to the deep, rich flavour of the passion fruit.
This is actually a fusion of fresh mint and pea. And although, not normally associated with confectionery, they both have sweet notes, so the flavour combo works quite well.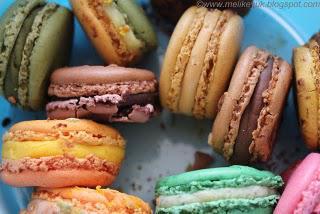 Macarons by Pierre Hermé
Those I'll be resisting:
Rose and rose petals infusion. I've always struggled with rosewater flavoured confectionery.Although it is probably the nicest version I've tasted, I'm afraid, it reminds me too much of Turkish Delight and I am not a fan. I think Turkish Delight can be very divisive, you either love it or hate it!
Quince and rosewater. Again for the reasons above, I did not really enjoy this flavour. I also could not taste the quince because the rosewater was so overpowering.
A melange of carrot, orange and cinnamon. I could not detect any cinnamon, leaving a carrot and very subtle orange taste. It was fine but it did not leave a lasting impression.
As the name infers, a combination of flavours unaccustomed to the French palette. This contains 
Matcha green tea, azuki bean, lime and ginger. This was pleasant enough, but I thought the green tea and lime flavours were more prominent than the red bean and ginger.
Those I look forward to trying:
Liquorice and essence of violet.
Jasmine tea and Jasmine flowers
Both of these flavours were being made available in late Spring.
Overall, I think the collection is a nice gift idea. It allows you to explore an array of surprising and sometimes challenging flavour combinations. I have now ticked off item 4 on my
Food and Drink Wish List
.
If you want to experience Pierre
Herm

é's macarons visit: 
London:
Stand alone boutique at
13

 Lowndes Street, Belgravia or,
Pierre 
Herm
é 
Counter in Selfridges, Oxford Street
Paris:
For the ultimate French experience visit the boutique on Rue Bonaparte, Paris