It's a myth that pasta like, spaghetti, macaroni, twisted pasta, penne pasta and more varieties of pastas can use only for pasta recipes or in Italian food. Now-days, you can prepare anything with these number of pasta's varieties. This time I prepare Macaroni cheese Bites for kid's delight theme.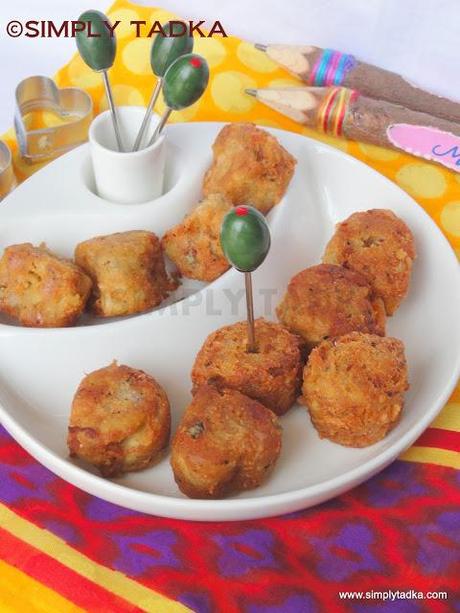 Macaroni Cheese Bites is a deep fried snack which prepared with over boiled or soft and mashed pasta combine with onion and boiled potatoes plus some Italian ingredients included oregano, chili flakes and cheese and olive oil which serve with extra cheese and ketchup.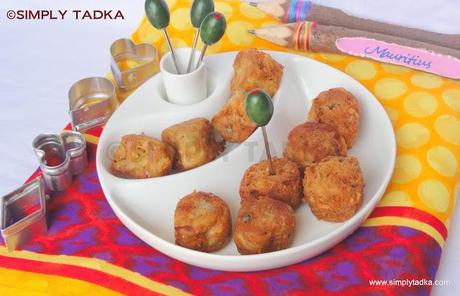 It's a really good attempt for kid's meal. You can prepare this bites for parties, picnic and kitty party or any get together. Whenever your pasta becomes over boiled
LL
, don't worries just go with same ingredients or add vegetables as per preference and
JJ
make these crispy bites. Even you can prepare this recipe with leftover pasta. After preparing shape, place the bites plate into freeze for 15-20 minutes to set properly and then fry them. If you are health conscious or don't like oily food, go with baked bites.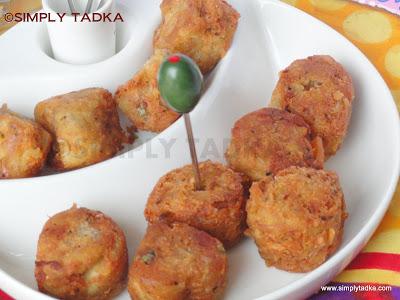 Preparation Time: 20 Minutes
Cooking Time: 15 Minutes
Serving: 15-18 Pieces
Ingredients
1/2 Cup Del Monte Macaroni, Boiled
1/2 Cup Boiled Potato, Mashed
1/4 Cup Onion, Chopped
1/2 Cup Mozzarella Cheese, Grated
1 Green Chili, Chopped
1/4 Tsp. Chili Flakes
1/4 Tsp. Kasoori Methi/ Dry Fenugreek leaves
1/2 Tsp. Oregano
1/2 Tsp. Roasted Cumin Powder
Salt to Taste
1 Tsp. Olive Oil
3 Tbsp. Bread Crumbs
1/2 Tsp. Corn flour/ Corn Starch
Oil, for deep frying
All-Purpose Flour, for dusting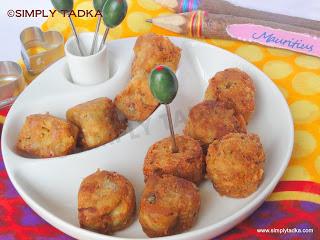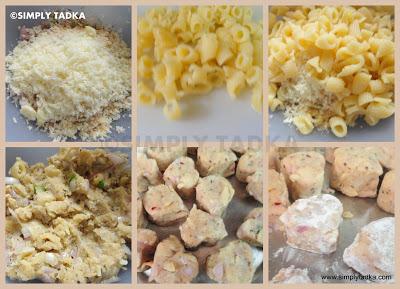 Direction
Boil the pasta or macaroni with salt and water for 20-30 minutes little over cook. Now drain and wash under cold running water and chop or mash in small pieces.
Take a large bowl and combine boiled and mashed potato, chopped onion, chopped green chili, grated mozzarella cheese, chili flakes, salt, oregano, cumin powder, kasoori methi, bread crumbs, oil and chopped macaroni. Mix together as dough. If you found moisture in dough, you can add more bread crumb or corn flour to adjust the moisture in dough.
Make small heart, diamond or any funky shape with the help of cookie cutter. Place the plate in freeze for 15-20 minutes to set this bites for lovely and crisp look. Now roll out these bites in plain flour/ maida.
Heat the sufficient oil in wok for deep frying on high flame. When oil is hot enough, add pieces one by one and fry till to golden and crisp on low flame. Drain out this cheese bites on Tissue paper and serve with ketchup or extra cheese.
Blogging Marathon page for the other Blogging Marathoners doing BM#29
Enter your email address:
Delivered by
FeedBurner