M·A·C Cosmetics introduces the M·A·C Makeup Studio, its first ever retail location dedicated to the brand's trusted makeup services, applications, lessons and professional artistry.  Located on the Upper East Side of Manhattan, this concept sets a global precedent for the brand.  "Consumers are constantly seeking out the most efficient and reliable services to keep up with their demanding schedules and fast- paced lifestyles, particularly in New York City," said Karen Buglisi Weiler, Global Brand President, M·A·C Cosmetics. "We noticed an increased need for an application-centric space as makeup appointments are growing rapidly in our existing locations. The M·A·C Makeup Studio is a response to this void in the market place, putting M·A·C's renowned artistry and makeup authority front and center."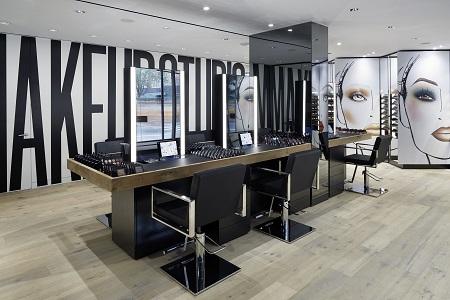 M·A·C Cosmetics introduces first M·A·C makeup studio in NYC
The M·A·C Makeup Studio offers clients a personalized one-on-one experience with M·A·C's makeup artists, removed from the bustle of the brand's often-busy retail spaces. "The Studio's space is very intimate and allows for the relationship between artist and consumer to flourish in a way that a classic retail space may not typically allow," adds Buglisi Weiler.  While M·A·C's full product range is available for sale, merchandising is discreet and minimally visible upon entry, allowing artistry and services take center-stage. "The M·A·C Makeup Studio introduces an entirely new design language for the brand," said James Gager, Senior Vice President and Group Creative Director, M·A·C Cosmetics. Five oversized face charts flank the store, providing a taste of the looks offered to customers, while emphasizing artistry rather than M·A·C's regular campaign visuals and product displays.

M·A·C Cosmetics introduces first M·A·C makeup studio in NYC
The Studio features six makeup stations anchoring the center of the space, rather than on the peripheries as in other locations. Each station is equipped with an iPad loaded with the Studio's full menu of services, inspirational looks and the brand's new booking tool, allowing consumers to schedule their next visit. For those who prefer a more personal experience, two private makeup rooms are available, providing an intimate environment for larger parties to socialize while receiving makeup applications.  Lighting is carefully fine-tuned for the ideal schemes for artists; a mix of cool and warm tones blend to imitate natural light, providing an even spread of light across the face, without shadows. A concierge, light café services, electronic charging stations and bag hooks give the Studio a salon feel and ultimate personalized experience.
M·A·C Cosmetics introduces first M·A·C makeup studio in NYC
The Studio's menu, designed by M·A·C Cosmetics Senior Vice President of Makeup Artistry, Gordon Espinet, features variations of M·A·C's most requested looks and services. All applications are tailored for each customer's personal preferences and unique style.
"Artistry and individuality are at the core of the Studio and the M·A·C culture," said Espinet. "This store concept offers customers to celebrate their individuality with the guide of our trusted makeup artists. We devised the menu based on some of the most requested looks and features at our stores and counters."
The Studio's menu is broken down into full-face Applications and Lessons from 60-90 minutes and "Focus Features" which center around just on one area of the face from 10-15 minutes. Each service is completely customizable based on the customer's preferred shades and products. The Applications menu offers seven looks ranging from a soft sculpted glowing face to a winged liner and bold lip look. Focus Features include bold lip, sculpted face, winged liner, and brows are short services ideal for those who may want a touchup or an extra hand in the midst of a busy schedule. Additionally, services such as wedding and theatrical makeup, tattoo cover-up and false lash application, are offered as well.
The M·A·C Makeup Studio joins M·A·C's 10 freestanding stores in the Manhattan area. Walk-ins, by-phone and booking tool appointments are all accepted.
M·A·C MAKEUP STUDIO AT A GLANCE LOCATION 825 Lexington Avenue at 63rd Street New York, New York 10065 212.371.2480
APPOINTMENTS MACCosmetics.com/MACMAKEUPSTUDIO 212.371.2480
HOURS Starting July 15, 2015 Open Monday through Thursday 7:00AM – 8:00PM; Friday 7:00AM – 9:00PM; Saturday 9:00AM – 9:00PM; Sunday 11:00AM – 7