Looking for an island paradise combining glamorous beaches with an exciting history? If so, then Bali is the perfect destination for you, with a profusion of places to visit and delightful locations for relaxation, culture, and exploration.
Bali's resorts are undoubtedly the highlight for any honeymooners who choose to visit. There are so many quirky resorts to visit and delight in that you'll undoubtedly love for a honeymoon. I've chosen just three that I'm convinced you'll adore.
1. Alila Villas Uluwatu
One of the newer resorts in Bali, Uluwatu is one of the Alila Hotels & Resorts portfolio, an exclusive enclave of luxurious resorts that are spreading speedily across Asia. Alila celebrate a focus on heritage and culture, local wisdom and health, and enriched spirits for all of their guests with a wide range of experiences and journeys available through each resort.
The resort offers a selection of different villas with one, two, and three bedrooms, all of which has 24 hour butler service. Every villa has a large bedroom, with 24 hour butler service, top of the range amenities within the rooms, and a private pool among other features. Alila Spas are also world famous as an excellent choice for relaxation and encouraging a deeper connection with your spiritual side.
The villas are not directly on the beach, as the resort is perched on a cliff edge overlooking the Indian Ocean, so it's not really the choice if you're craving sand between your toes. But for privacy, luxury, and relaxation, you'll struggle finding better anywhere else.
2. Uma Ubud
One of the fantastic COMO Hotels and Resorts, Uma Ubud is a stunning, intimate and stylish hotel designed in traditional Balinese style. It's quiet, comfortable, but surrounded by the beauty of the location and the ability to explore Bali's amazing culture. Whether you want a Terrace Room or the Uma Pool Suite, you're guaranteed a lovely stay in the midst of beautiful Ubud.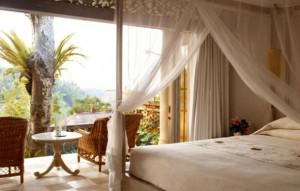 One of the many highlights of staying in a COMO hotel, the COMO Shambhala Retreat offers a range of relaxing treatments and a dedication to light, fresh and healthy raw organic foods. You'll be cleansed inside and out.
3. Samaya Seminyak
The Samaya Seminyak is the premier beach resort in the fashionable area of Seminyak. Don't take my word for it; it's been voted as the 'Leading Beach Resort of Asia' and 'Leading Resort of Indonesia' in the World Travel Awards 2010. Split into two sections, two thirds of the villas are in the main part of the resort along the beach and the other third is just across the road at the Royal Courtyard villas. Right now, the beach resorts are undergoing restoration, and will be closed up to the start of 2012, but if you're booking for your honeymoon next year, you have the opportunity to visit these right as they open; the Royal Courtyard villas were already bigger and more luxurious, so this will truly be a treat.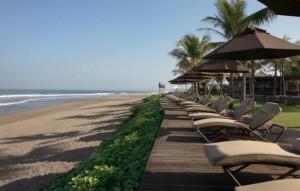 The Samaya is very well placed for exploring Seminyak, centre of restaurants, chic boutiques, and art galleries. So when you're full of relaxation and looking for a wander, you'll have somewhere to go.
What's your favourite Bali resort?