We are now approaching summer here in the UK, and if you're getting married this autumn and haven't yet chosen your honeymoon destination, I am here to help you out.
Botswana is perfect for an autumn honeymoon as September and October are ideal for game viewing on the Okavango Delta. In many ways, a safari honeymoon is a fantastic experience for a honeymoon, simply because it's so different and so very special. It's very unlikely that both of you will have been on a safari before and there is little better for a honeymoon than a new experience together. Plus, Botswana links up with some of the most desirable honeymoon islands in the world, making it simple to enjoy a twin centre honeymoon of your dreams.
Australia has a ton to offer the adventurous honeymooning couple. With some of the world's most well known cities, a host of gorgeous beaches, and with a heartland just begging to be explored, Australia suits almost every honeymooner. You can easily delve into the countryside, exploring Aboriginal culture and visiting Uluru, then head to Sydney for a tour of the Opera House and the Harbour Bridge, and finish off your honeymoon at some of the world's most desirable islands. Somewhere like Lizard Island is simply perfect for honeymooners who want to relax and feel the luxury.
The north of Australia is better for early autumn, late August and September, while the south of Australia is better in October and November.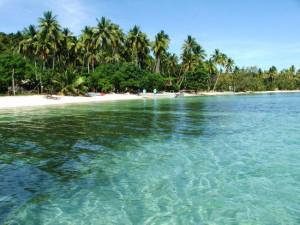 Fiji is quite simply honeymoon luxury out of a dream. Imagine gazing out at water so blue it aches, stretching up to a crystal clear sky with the sun shining down on you, all the while you're sunbathing with your love on a white sand beach; it just doesn't get better than this. Fiji's lush landscapes may just be the core of your honeymoon fantasies; with rainforests, waterfalls, sandy beaches, and crystal clear lagoons characterising the northern islands and palm trees, white sand, and warm water found in the south. Combine both for the ultimate honeymoon retreat.
Did you honeymoon in the autumn? Where would you recommend honeymooners go?