Oh, if money were no object and I didn't have a budget to stick to, I'd buy all of the things I want. Unfortunately, I need to stick to a budget and I sometimes make hard decisions about my fashion and beauty purchases.  Today, I've compiled my lust list for spring. I'd love to have all of the items on this list.  Some are affordable, some aren't.  I may also be able to find some frugal alternatives.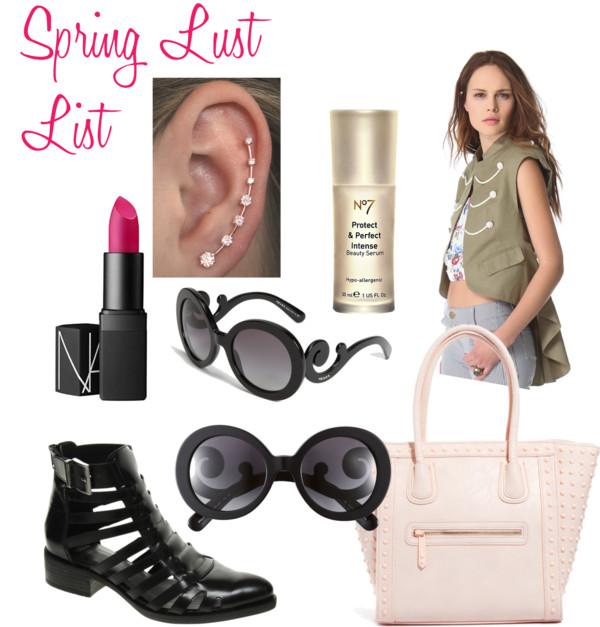 First on my list are the ATTACK Leather Gladiator boots from ASOS.  I'm definitely ordering those.  They are amazing and the perfect bad girl option for spring. I'm in love with the military style vest from Boy. by Band of Outsiders. Of course they don't make it in my size, so I'll have to hunt for an alternative. The studded bag from Aldo is fantastic. The pinkish color turns the tough studs into a spring bag. I've had my eye on the Prada Baroque sunglasses for some time. I know there are similar versions available for much less but hey a girl can dream. Obsessed is a mild word for how I feel about fuchsia lipstick. I even wore it on my wedding day.  I've heard some friends rave about NARS Funny Face.  It's on my must have list. In the spring, as the weather warms, I have to switch from my heavy cream moisturizer to something lighter. Serums are my moisturizer of choice for spring and summer. I've read good things about Boots No. 7's version. It's affordable and available at Target.  Sold!  Every girl needs a little bling.  I used to have four holes in my ear but I let the upper two close. I just have my lobe and my cartilage piercings left. This ear pin is fantastic. It will slide into my lobe piercing but give the look of multiple piercings without any bulk or weight. It's sparkly, pretty, and cool. I may need to rework my spring fashion budget or get a second job.
What's on your spring lust list?