LUISAVIAROMA:
AW'12 Picks!
From time to time I enjoy the oh so tempting hobby of making a dream wishlist on various luxury fashion websites. This morning I woke up and felt the urge to make one for AW'12 at

LUISAVIAROMA.com

. I don't have a clue why I even do it: I mean, I only ever end up on the verge of tears at the realisation that I can't actually afford £16,000+ to buy my dream wardrobe. And then, what's worse is that I actually contemplate a credit card to buy some of it. Insane or what?!

So, after I got over my little sulking session, I thought it would be a good idea to share them with you. Seeing as I'm such a nice personal and all, I thought it would be nice to be sad together - unless you can actually afford these items, then I hope I inspire your AW'12 wardrobe (whilst being totally green with envy).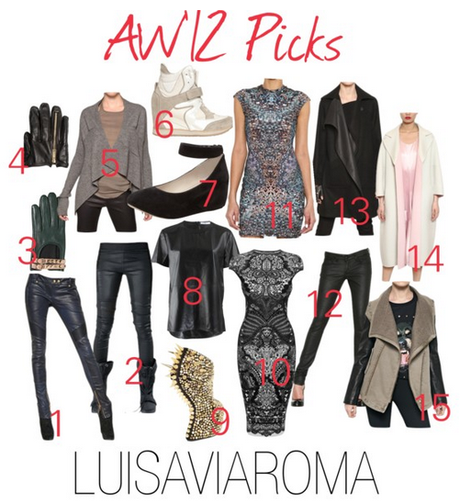 1. BALMAIN: Soft nappa leather biker trousers 2. DEMOBAZA: Waxed light denim leggings

3. VALENTINO: Rockstud nappa leather gloves

4. DSQUARED: Leather zipped half gloves

5. RICK OWENS: Yak & wool knit cardigan

6. ELENA IACHI: 70mm suede and calf sneakers

7. CHLOE: 30mm suede ballerina wedges

8. GIVENCHY: Nappa leather top

9. GIUSEPPE ZANOTTI: 150mm suede spiked sculptural wedges

10. ALEXANDER MCQUEEN: Victorian puckering wool jacquard dress

11. MCQ ALEXANDER MCQUEEN: Cap sleeve interlock jersey dress

12. MCQ ALEXANDER MCQUEEN: Waxed denim stretch skinny jeans

13. KARL LAGERFELD PARIS: Leather & wool cloth coat

14. JIL SANDER: Two tone soft cashmere melton coat

15. GIVENCHY: Leather sleeve cotton denim jacket

Just click the links above and you will be taken to the Luisa Via Roma website, where you will be able to purchase each item.

Leather, studs, comfy knits and wedges are items that you will find in my wardrobe, no matter which season it is. So for AW'12, those will remain my main staples - it just so happens that a lot of my picks are trending for Fall 2012, so it's a win, win situation.
What are your wardrobe staples? Which trends will you be adopting for AW'12 this year? Let me know in the comments below!