Lucy, Melinda and Charlotte invite you to curl up with an icy beverage and let them tell you their story of how they fell through time.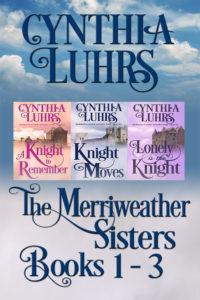 Read the first three books in the medieval time travel romance series: A Knight to Remember, Knight Moves, Lonely is the Knight, in this special offering. To celebrate the release of Edward's book, FIRST KNIGHT, the boxed set containing all three Merriweather Sisters books is on sale for a limited time for only $.99
Pick up your copy today!
Google Play
Smashwords
The series continues with the Thornton Brothers in Darkest Knight. Correct reading order is listed below:
Book 1: A Knight to Remember
Book 2: Knight Moves
Book 3: Lonely is the Knight
Book 4: Darkest Knight
Book 5: Forever Knight
Book 6: First Knight
Book 7: Last Knight - releases November 8th
COMING 2017 - 2018 - It's time for our medieval knights to come to present day...
Release dates will be posted as they are available.
Book 8: Beyond Time
Book 9: Lost in Time
Book 10: Falling Through Time
Book 11: My One and Only Knight
Book 12: A Moonlit Knight
Book 13: A Knight in Tarnished Armor