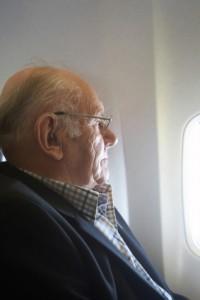 February is National Cancer Prevention Month, so we thought it would be appropriate to talk about how to lower the risks of getting prostate cancer, the most prevalent type of cancer in men (after skin cancer).
Since the prostate gland plays a role in controlling urine flow, treatments for prostate cancer – particularly surgery and radiation therapy – often result in incontinence problems. It's usually temporary, but a nuisance nonetheless.
Most men experience involuntary urinary leakage when coughing, sneezing or laughing (stress incontinence) after prostate cancer treatment. Others might get sudden urges to urinate (urge incontinence), experience dribbling issues or have a weak stream. Male incontinence after prostate surgery or radiation is commonly treated with Kegel exercises that strengthen the pelvic floor muscles. Some men might even wear incontinence protection, such as male guards, in case an unsuspected leak occurs.
While there is no clear-cut way to prevent prostate cancer, or any type of cancer, there are ways that may lower your risk of getting it:
Change your diet by cutting down on red meat, fatty foods, and sugary foods. Introduce more fruits and vegetables, especially leafy greens, into your meals. Bring an apple or orange to work as a snack. Some scientists have suggested tomatoes, especially when cooked or processed, are a good option because they contain lycopene, an antioxidant that may fight prostate cancer.
Exercise daily and maintain a healthy weight. Some studies have shown that obese and overweight men have a higher chance of developing prostate cancer. Physical activity, at least 30 minutes a day, has many health benefits as it helps improve blood circulation and strengthens the heart. Next time, park your car a little farther than you need to or take the stairs at work instead of the elevator.
Communicate with your doctor about the risks and benefits of prostate screening and whether or not you need a PSA (Prostate-Specific Antigen) blood test or a DRE (Digital Rectal Exam). Prostate cancer screening is usually recommended after age 50.
For more information on prostate cancer prevention and treatment, visit the American Cancer Society at cancer.org.