We all tend to crave bad foods while on a diet and it's only made worse when friends and family around you get to eat all the foods you've been day dreaming about. Instead of giving in to the temptation and having to go back to step one with your diet, you can fill your recipe book with diet friendly recipes that still taste like the "real" bad for you foods, like this "fried" chicken.
Instead of being high in calories, fat, grease, and other bad things for your body, this fried chicken recipe was made specifically for diets and is under 250 calories! It calls for panko breadcrumbs and other crunchy ingredients instead of fried skin. You can make this as a lunch or dinner time meal and won't feel bad for cheating on your diet!
Here are all the ingredients you will need to make this fried chicken:
1/3 cups of buttermilk, reduced fat
1/8 teaspoons of paprika
12 ounces of boneless and skinless lean chicken breast, or, about ten pieces
1/3 cups of bran cereal
1/3 cups of panko breadcrumbs
1 tablespoons of onion soup mix, dry
Dashes of salt and pepper
And here are the directions to make this recipe:
In a large sealed bag or container, mix together the buttermilk and paprika until mixed well. Add in the chicken pieces and make sure to coat them well, then seal and refrigerate for at least one hour.
Preheat oven to 375F. Now, prepare a large baking sheet by applying a non-stick cooking spray and then set it aside.
Grind together the bran cereal in a blender or by hand until bread crumb-like consistency is created. Next, add in the panko breadcrumbs and onion soup mix and mix thoroughly.
Take out the chicken pieces and now coat with the bread crumb mixture after giving each one a good shake to get rid of excess buttermilk. Lay each piece flat on baking sheet.
Let chicken bake in the oven for about 12-15 minutes. Flip over and bake for another ten minutes or until crispy.
Recipe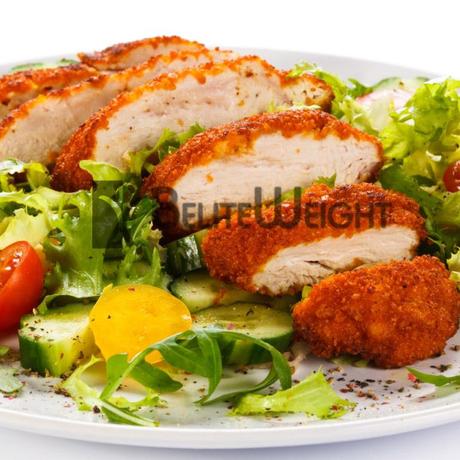 Recipe Name
Low Fat & Fried Chicken
2014-05-30
no rating





Based on 0 Review(s)