Share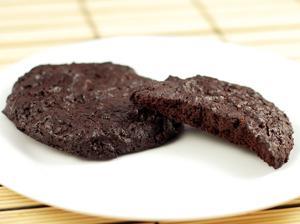 As much as I love baking with low-carb flours (usually almond or coconut), sometimes you can get away without using any flour at all.
This recipe for low-carb, gluten-free chocolate biscuits is completely flourless – basically you just use cocoa powder instead. You just can't go wrong with that much cocoa!
This recipe is super-simple and takes about 20-25 minutes total to prepare and bake. Carb count is about 1.5g net carbs per biscuit.
What sort of cocoa powder should I use?
You will need to get sugar-free, Dutch-processed cocoa powder.
In the UK, Green & Black is a good brand to go for. In the US, try Hershey's Special Dark or Valrhona.
You can also add some sugar-free chocolate chips to the biscuits (if you are not afraid of chocolate overdose!). I use Willie's Cacao blocks, roughly chopped.
If you are wondering about cocoa and chocolate on a low-carb diet, please have a look at this earlier post – basically, chocolate is not the problem (but added sugar is).
Any other points to bear in mind?
This recipe is so simple, it seems there is really nothing else to say about it! Just go right ahead and try it.
Print Low-carb flourless chocolate biscuits
Prep Time: 10 minutes
Cook Time: 15 minutes
Total Time: 25 minutes
8 biscuits
Calories per serving: 160
Fat per serving: 15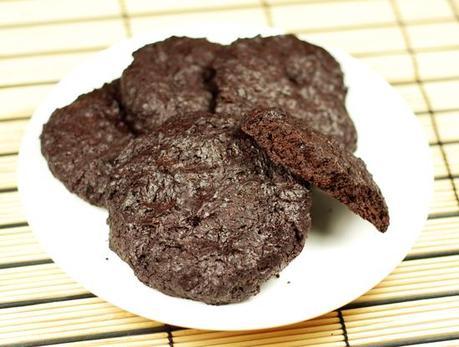 Ingredients
100g (3.5oz) sugar-free cocoa powder
50g (2 oz) Truvia, or similar granular sugar substitute
100g (3.5oz) unsalted butter
2 large eggs
1 tsp sugar-free vanilla extract
Instructions
Preheat oven to 190C/375F/Gas Mark 5
Lightly beat the eggs and mix with melted butter and vanilla extract
Mix cocoa powder with Truvia
Combine dry and wet ingredients and mix thoroughly together
Line a baking tray with baking paper
Form 8 large biscuits with your hands
Bake for 10-15 minutes
Put out on a wire rack and let cool completely before eating
Assuming 8 biscuits are made from the amounts listed above, per biscuit: 160 cal, 1.5g net carbs, 15g fat, 5g protein.
Schema/Recipe SEO Data Markup by ZipList Recipe Plugin2.2
http://low-carb-support.com/lowcarb-flourless-chocolate-biscuits/
Recipe by Margarita White (@Carbophobic), for low-carb-support.com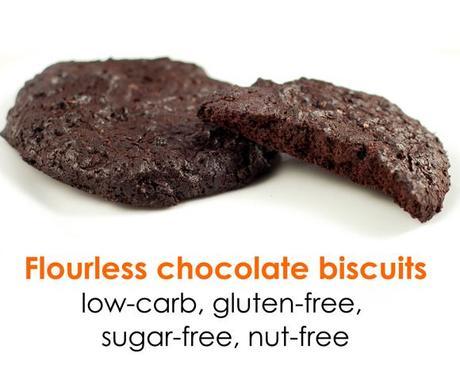 Share