Share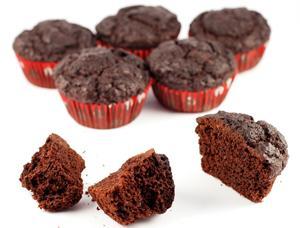 This muffin recipe is for serious and committed chocolate lovers – and yes, just because you are on a low-carb diet, doesn't mean you have to give up chocolate too! (Let's face it, that just would not be good for anyone).
By using sugar-free versions of cocoa powder and baking chocolate, and almond flour instead of regular flour, we can keep the carb count very low. Overall, one of these gorgeous chocolatey muffins will set you back only 2g net carbs!

 
Are you serious? Can I eat chocolate on a low-carb diet?
Yes, absolutely. Chocolate has a bad reputation as a dieter's enemy number one, but in fact, it's not the chocolate per se that is the problem, but the vast amounts of sugar that tend to get added to chocolate bars.
There are sugar-free chocolates and cocoa powders in the world, and that's what you should be getting. Read more about chocolate on a low-carb diet in my earlier post on this subject.
Note for those on Atkins Induction – although small amounts of sugar-free cocoa powder are permitted on Induction, almond flour is not, so this muffin recipe won't be suitable for you yet. Do come back once you are past Induction and on OWL! In the meanwhile please check out this list of Atkins Induction desserts.
Raw cacao powder vs Dutch-processed
Some health food stores stock raw cacao powder. Most mainstream brands have been Dutch-processed, by washing it with potassium solution to neutralise acidity.
Raw cacao powder tends to be denser and lighter in colour. It is definitely a healthier option, but it can be more expensive and has a slightly different flavour.
The recipe below uses Dutch-processed sugar-free cocoa powder by UK brand Green & Black.
If you would like to use raw cacao powder instead, please use about 75% of the amount listed below, and substitute baking powder for baking soda to alkalise the mix.
Adding moisture to the recipe
In the recipe below, I am using cream, which is high in fat and low in carbs.
Depending on your dietary preferences, you can substitute cream for dairy milk, or coconut or almond milk. You can even use water!
Consistency of the final mixture should be similar to thick yoghurt – it can be poured into muffin cups, but it would flow slowly and be quite sticky.
Where to buy
Links in the recipe point to the low-carb shop on this website. We currently deliver to UK and Europe.
Check out your local health store or online specialist retailers for sugar-free products.
Print Low-carb chocolate muffins
Prep Time: 10 minutes
Cook Time: 30 minutes
Total Time: 40 minutes
10 muffins
Serving Size: 1 muffin
Calories per serving: 120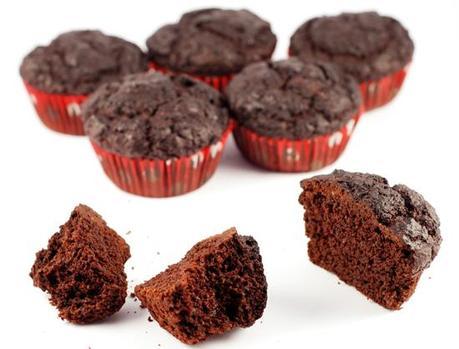 Ingredients
1 cup (90g / 3oz) almond flour
1/2 cup (50g / 1.7oz) sugar-free cocoa powder
4 tbsp Truvia
1 tbsp baking powder
1 tbsp sugar-free vanilla extract
1 small pinch of salt
2 large eggs
1/2 cup (120ml / 4oz) single cream
Optional: 30g / 1oz sugar-free chocolate chips or chunks of sugar-free dark chocolate
Instructions
Preheat oven to 190C/375F/Gas Mark 5
Mix all dry ingredients together thoroughly
Lightly beat eggs, add vanilla extract and cream and combine
Add wet ingredients to dry ingredients and mix well until smooth
Fold in chocolate chips if using
Spoon mixture into individual muffin tins or cups
Bake for 30-40 minutes, until springy and firm to touch
Assuming 10 muffins are made from the amounts listed above, per 1 muffin: 120 cal, 2g net carbs, 10g fat, 5g protein
Schema/Recipe SEO Data Markup by ZipList Recipe Plugin2.2http://low-carb-support.com/low-carb-chocolate-muffins/Recipe by Margarita White (@Carbophobic), for low-carb-support.com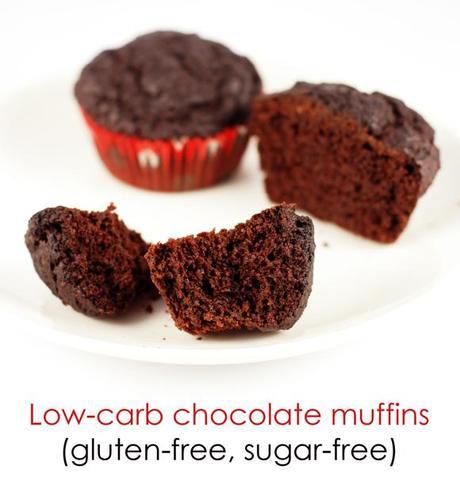 Share