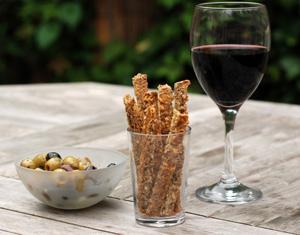 This low-carb recipe was a result of some wishful thinking earlier today.
You know those nice cheese straws they sometimes give you in restaurants instead of bread, to nibble on while you sip your wine and try to decide what to have for dinner?
I was sitting in my garden with a nice glass of red, enjoying the fact that I made it through another week, and suddenly had a real craving for those cheese straws.
So I tried to make some and amazingly, they turned out perfect the first time round. Usually I spend some time fine-tuning my low-carb recipes before I publish them, but these low-carb cheese straws were really good straightaway!
Perfect low-carb snack, and a great companion for olives and red wine, plus perhaps more cheese.
Low-carb cheese straws – ingredients
1 cup (90g / 3oz) of almond flour
1/2 cup (65g / 2oz) of ground flaxseeds
1 cup (90g / 3oz) grated cheddar
1 tbsp psyllium husks (this is optional, but I find that it helps with the texture)
1 tsp coarsely ground black pepper
1 tsp sea salt
1 tsp each of dried oregano and dried rosemary
(Herbs are optional, but they do make it taste nicer. Sage or thyme would also work well.)
1/2 tsp baking powder
2 large eggs
3 tbsp olive oil
(As always, I am including links to the products you can buy from the low-carb shop on this website. Currently delivering to the UK and EU).
Low-carb cheese straws – method
Combine all the dry ingredients together, add grated cheese and mix thoroughly together
Lightly beat eggs and put a little bit (about 1 tsp) in a separate bowl, for brushing the dough later
Add beaten eggs and olive oil to your dry ingredients and mix well
Line a baking tray with baking parchment
Lay out your mixture on top of the paper and roll it out thinly, using your hands or a spoon. It will be a bit sticky at this point so I just tend to use my hands. Aim to roll it out to about 3-5mm thick.
Brush the top of the dough with the remains of your beaten egg
Bake on 190C/375F/Gas Mark 5 for about 30 minutes, or until golden brown and crispy
Take out of the oven and cut into thin vertical strips
Leave to cool completely, cheese straws will get much nicer and more crispy once cooled!
Low-carb cheese straws – nutritional information
For the total amounts listed above: 1800 cal, 12g net carbs, 66g protein, 154g fat, 28g fibre
I made 60 small straws (about 1cm wide and 10cm long) from the amounts listed above. Per 1 straw:

30

cal,

0.2

g net carbs, 1.1g protein, 2.6g fat, 0.5g fibre.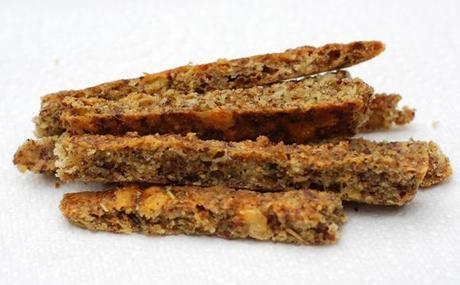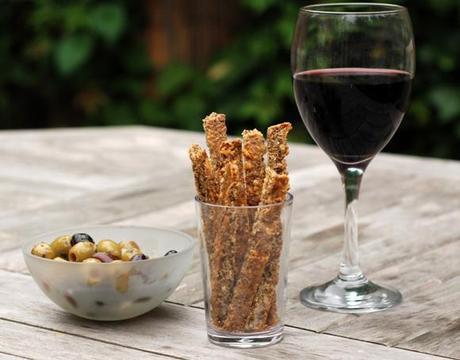 Share