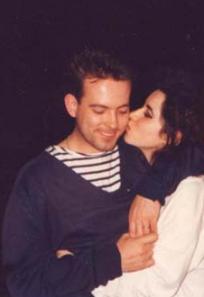 Robert Smith poured his soul into these lyrics and I believe it to be one of the most beautiful songs ever written. It is widely known by people all over the world, of all ages, and it's been covered by several artists including Tori Amos, 311, and Adele.
Lovesong was released in August of 1989 from their eighth album, Disintegration. It went to #2 on Billboard's Modern Rock Tracks and #7 on the Top 40. In 2005, it was featured on the soundtrack for 50 First Dates staring Adam Sandler and Drew Barrymore as a cover from 311. The track actually charted higher than The Cure's original release.
Smith wrote the song as a wedding present to his wife. He was on tour at the time and wanted her to know that no matter how far or long he had to travel, he would always love her. The photo is the two of them together sometime in the 80′s.
While I was searching for this song, I found a cover that someone did on piano. It's pretty good. Check it out HERE.