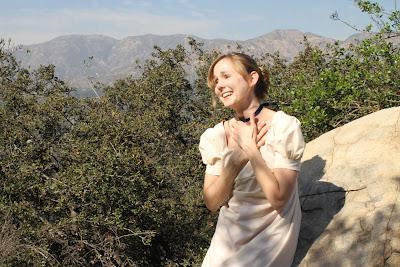 I discovered Katherine by chance through her vimeo channel. She's an actress who loves period drama, especially Jane Austen adaptations. This is the main reason she produced her Persuasion Project (two videos) and the reason why I invited her to share her experience   here at My Jane Austen Book Club. 
First of all Katherine, welcome to My Jane Austen Book Club! Would you mind to introduce yourself to our readers and tell us something about yoruself?
Gladly. First of all, thank you for finding me and reaching out. Meeting another lover of Jane gets my kettle going :) I'm an actress and I live in Los Angeles. Since I'm all about challenging myself in my career and my life, my ultimate goal is to become the most fearless actress of my generation. I don't mean that someday I'll be free from fear exactly, but that when I'm terrified, I will go for broke anyways and do the thing that scares me. And that's what I did with this project.
I bumped into your lovely videos on Vimeo and was surprised noticing that you had decided to film scenes from Persuasion.  Why? Why not P&P or S&S which seem to be the best favourite  among young Janeites?
As an actress it's difficult to get work, and it's especially difficult to get work that inspires you. To fight this, I took matters into my own hands. Since the period genre is one of my absolute favorites, I decided to produce a project that I could fall in love with as an artist. That project became these two scenes from Persuasion. So yes of course P&P and S&S are fantastic, but I had seen them too many times. I was worried that I might unintentionally duplicate another actress' performance.  In the end I chose Persuasion because I really love the story and I really really really love Anne Eliot. Her struggle to overcome the pressure of her society and gain the courage she needs to follow her heart, mirrors my own struggle with fearlessness. Her story is very modern in that sense.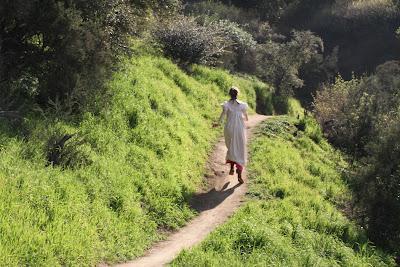 How did you work on your video project? What did you start with?
Once I chose Persuasion, I read it with an eye towards what scenes I could film on my limited budget of 500 dollars. I ended up with my final two scene choices because I could be the only actor on camera, thus limiting my costume fees, and because I could film outside which meant I could get away without paying for a location or for filming permits. And I really loved getting to adapt Austen's beautiful book into a film script.
From the adaptation I recruited my voice over actors, my crew (my hubby and mother), I prepared the character, and I rented the proper equipment. We ended up filming the two scenes in one afternoon. We often had to stop and start filming as mountain bikers and hikers with dogs passed by. I'm sure they got a kick out of seeing a Regency lady in the middle of the LA foothills.  
 And finally, I edited the project. What you see is the result of that work.
Is your dream job becoming an actress?
What I am most proud of is that I claim my life as an actress without waiting for someone to hire me. So yes, while I would love to be paid and while I would love to work on the next Hollywood Austen adaptation, I love where my career is currently at too.
Have you seen many Austen adaptations so far? What are your favorite ones?
Oh my goodness yes! Which ones haven't I seen?! :) Hmmmm. My favorites are usually the long ones. Like Pride and Prejudice with Colin Firth. I just can't get enough of that world so I find two hour films frustrating :) Of course, then I just end up watching Pride and Prejudice with Kiera Knightley or Sense and Sensibility with Kate Winslet several times and call it good. This is unconventional, but I love Lost In Austen. It's all about what it would be like if we went back in time into P&P.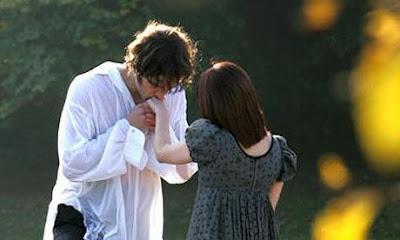 Darcy and Amanda - Lost in Austen
Did you make the cute Regency dress you wear  in the videos yourself?
I did make the dress and thanks for calling it cute! It was actually the first sewing creation I attempted as an adult. I had no idea what I was doing so I was really quite pleased with how well it came out.
What is it that most fascinates you in that distant, so different world, which is Jane Austen Era?
Everything about Austen's stories is romantic. The men (need I say more). The women overcoming the limits of their society. The historical period itself pulls me in: life is slower, no cell phones or multi-tasking, education and wit are attractive, etc.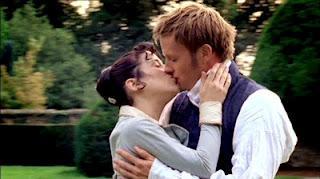 Which Austen heroine/s do you most sympathize with?
At this stage in my life, I relate most with Anne Eliot. I touched on it before, but her struggle with fearlessness, to do what her heart demands despite the persuasion of others, is what I struggle with. It may be my own mind telling me I'm not good enough or that I don't deserve to pursue my bliss as an actress, but I fight that persuasion just as she fights the persuasion of her family. And there is something about the way everyone underestimates her. No one, except Wentworth, really sees Anne's beauty and value. Sometimes I feel overlooked like that.
Who's your favorite Austen hero, instead?
Well I love Mr. Darcy. To see his defenses brought down by love thrills me every time. I also love love love Col. Christopher Brandon. His quiet, steadfast passion is something I've come to appreciate in my twenties. It went over my head as a teenager :)
Imagine you could live one day in one of Jane Austen novels, which one would you choose and which scene in the book would you be more excited to live?
I'd like to live more in the Persuasion scene where Anne reads Wentworth's letter. It's that moment when her world is blown apart and she realizes she is loveable, desirable, that it isn't too late to live her ideal life. I could live in that discovery my whole life, in that emotion of worthiness and value and love...in knowing that no mistake is irreversible.  
Going on dreaming, what would you miss the most from present day life?
I would miss my husband the most :) And as an asthmatic, I'd miss my inhaler.
Is there anything you haven't read by Austen that you wish to read soon?
I'd like to read Northanger Abbey. In fact, consider it downloaded on my Kindle now! 
For those interested in seeing what I do next, you can like me on
Facebook
or follow me on
Twitter
. You can also visit my
website
.
Thanks a lot, Katherine. It's been a pleasure to chat with you. Good luck with your life and career! And now, let's have a look at your videos...
SCENE 1
SCENE 2