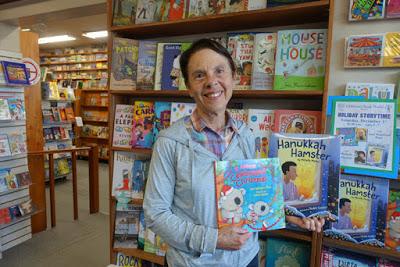 I just went to my favorite neighborhood bookstore, Children's Book World to participate in the national LoveYourBookstore Challenge. I bought two books: If Animals Celebrated Christmas by Ann Whitford Paul and Hanukkah Hamster by Michelle Markel. They will make perfect holiday gifts.
Love Your Bookstore is an industry-wide celebration of all brick-and-mortar bookstores across America. It's a way for book lovers of all sorts to share their love for their favorite local bookstore!
Bookstores are community centers and more than just selling books, they provide a place for people to connect with your books, with you, and with each other. Let's create a celebration of these amazing brick-and-mortar bookstores with all book-loving partners (authors, readers, publishers, booksellers, and more!) during this holiday season and beyond.
You have two more days to participate!
Deadline is Sunday, November 18th.
Go to your favorite bookstore and take a picture with your favorite book and post it on Twitter or Instagram.
Hooray for brick and mortar bookstores!