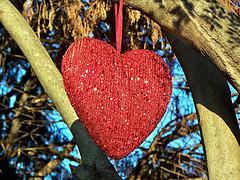 Valentine Heart in a Tree 1 (Photo credit: Felix_Nine)
Samuel Goldwyn once said, "Ninety per cent of the art of
living consists of getting on with people one cannot stand."
So then in my mind the other 10% of life is the bliss and
joy and excitement of being with people you adore – the goal of course then
would be to focus on being with those you like more often than not.
William Saroyan "Love doesn't have to be perfect. Even
perfect, it is still the best thing there is, for the simple reason that it is
the most common and constant truth of all, of all life, all law and order, the
very thing which holds everything together, which permits everything to move
along in time and be its wonderful or ordinary self."
Happy Valentine's Day – be with those you adore and love
them lots!
You Create Your Day by the way You Think! Be Present!
Go make it a Magnificent Day!
Blessings, Shawna
www.RelationalResults.com
Advertisement