The Easter items may have been sneaking themselves into the shops since December but the next occasion I've been focused on is Valentines Day. The thought of going out for an over priced romantic meal or receiving a cheesy stuffed animal doesn't appeal to me, but I do usually treat Ross to a nice card. For me the funnier, weirder or more ridiculous the better. This year I've tried to create some loving Jolly Good treats that fit in with my own views of the day and this is what I came up with.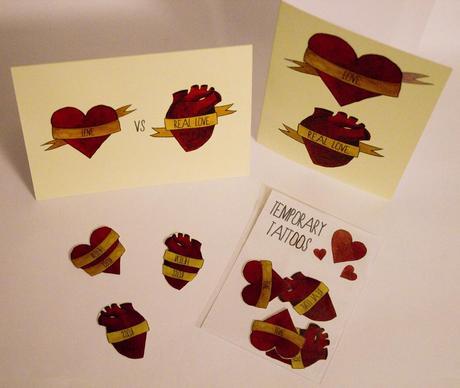 Along with the new card design I've also made some matching temporary tattoos. These will be available to buy separately or together in a handy little Valentine pack. And, as if that wasn't enough, I'm also going to be offering the option to create your own personal temporary tattoos. Add you and your partners name or a special message to each heart design. All items will be available in the Jolly Good shop over the next few days.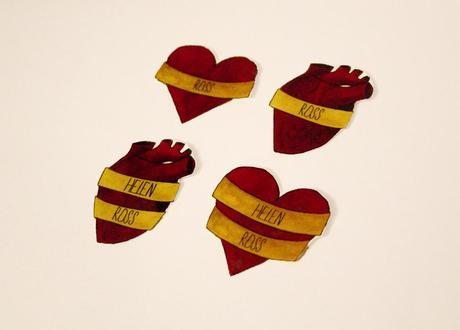 I've also been thinking of organising a little last minute creative Valentine Swap. It's always nice to get a little treat through the post, so I thought it would be good to send each other a nice greeting card and a little gift. This could be handmade or something you've collected or bought to the value of about £5. Let me know if you'd like to get involved by emailing [email protected] before 5pm Sunday 27th January. Please put Valentine Swap in the subject box and include your name and address. Depending on interest I'll match you up with a blind date and get in touch with their address. Open to UK folks only, so that there's some chance of items arriving for 14th Feb.