Continuing with my style challenge, I've decided regardless of my previous posts about lack of options in Miss Selfridge, that I would challenge myself to create an outfit from their online store. I have admitted before that their online selection is far better than their stores (especially Huddersfield's) - which I suppose is obvious..   But anyways, here it is..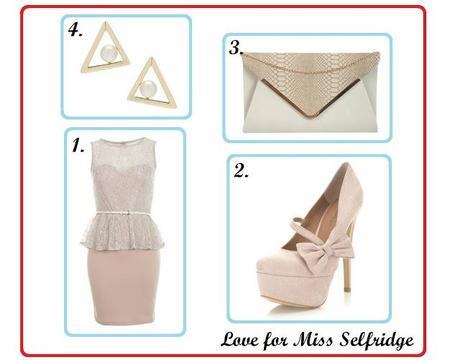 " I'm a well dressed sausage, give me a job! "   I wanted to post something that would encourage you girls to step away from the classic black look for interviews & into something equally as classy but a little different.  
1.
Lace peplum dress - £49
  I could have pushed a royal blue or hot pink number on you guys.. But maybe that would be a little too much.. So, I have chosen a neutral coloured dress, because I believe as much as its important to make yourself memorable at an interview & bright colours can be fun.. But theres a reason the little black dress is a classic, its simple.    You can have the exact same impact by picking the right fabrics to make a statement instead - One of these fabrics is lace. Lace is delicate, classy and something a little special. Oh & the peplum is a beautiful (and much loved by me in particular) style not only bang on trend but also really smart.  
2.
Saffi Cream Closed Toe Court - £50
  These shoes are just too darn cute. But most importantly, smart! Again you want something that compliments your look without being too outlandish. Colourful heels do look great with black heels & I'm not knocking those of you that have wore colourful heels to interviews. I just personally prefer a simple shoe.   I think the bow detail really lifts this shoe & adds a point of interest without stealing the show away from the lace.  
3.
Faux Snake Front Clutch - £22
  I love a good clutch
 & this one not only looks great with the dress, but its also the kind of bag that would literally go with any outfit if you have the right accessories to match.
When it comes to interviews I'm always unsure of bags, and I've been known not to take one at all, but if seems as this challenge required one, this is definitely the one I would snatch up in a flash.  
4.
Pearl Triangle Stud - £7.50
For interviews I think accessories should be clean and simple.
These studs are stylish without being too 'in your face' & lets face it for under £10 you can't really complain at the price!