While at the opening of the New York School of Interior Design's new show, "Modern in the Past Tense: Revisiting the Landmark Exhibition "Design 1935-1965: What Modern Was", I fell in love with a chair that I had never seen before.
I was surprised to find out that there was a chair out there that I was unfamiliar with as the running joke in my family is that, after my graduate school exams, I am the chair lady.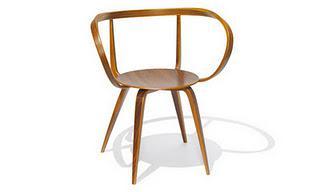 George Nelson's "Pretzel" chair, ca. 1952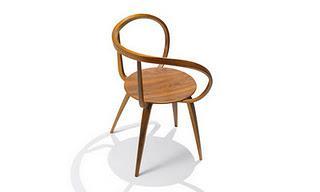 George Nelson's "Pretzel" chair, ca. 1952
However I had never laid eyes upon on this beauty before. So imagine my surprise when walking past the shop Artifacts 20th Century on Crosby Street, I saw a similar chair in their window! My crush happens to be the "Pretzel" chair by George Nelson (1908-1986) from 1952.
Nelson is one of the preeminent design figures of the twentieth- century. There is nothing that he could not do. Nelson was a terrific graphic designer and a supremely talented furniture designer. His (almost) forty-year relationship with Herman Miller, Inc. began in 1947 when he joined the company as its design director, is a testament to this. While at Herman Miller, Nelson was responsible for bringing on board Charles and Rae Eames, Harry Bertoia, and Isamu Noguchi. In 1955 Nelson opened his own practice, George Nelson and Associates, and hired many talented people there as well, including Irving Harper, who understood design in the same way that Nelson did, as "an internal, necessary, and ineradicable logic inherent in the fabricated, synthetic world" (Judith Nasatir, AIGA, http://www.aiga.org/medalist-georgenelson/)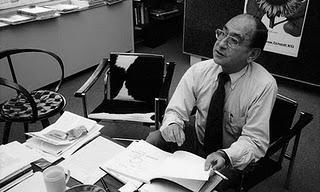 Photos of George Nelson in his office with the "Pretzel" Chair courtesy of Vitra.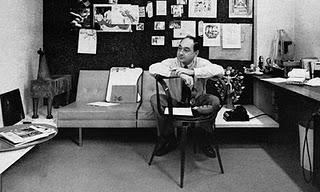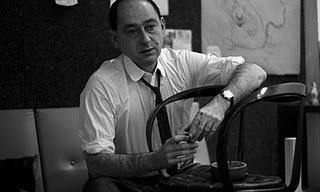 Nelson was incredibly eloquent and wrote about his work better than anyone else could. He was the co-managing editor of
Architectural Forum
(from 1935) and founded
Industrial Design
magazine (1953). Reading his interviews with giants of twentieth- century design like Walter Gropius, Mies van der Rohe, Le Corbusier, Gio Ponti, and the Luckner brothers, which he conducted while living in Europe during the 1930's, and later published in
Pencil Points
(a magazine which eventually became known as
Progressive Architecture
), gives us insight into modern design and architecture that is essential to our understanding of the period.
The Pretzel Chair is made out of bent wood and was initially referred to as the Laminated Chair. I fell in love with its curved back, which gives it its name, and reminds me of great Art Nouveau furniture with sinuous lines. Bent laminated wood is used not only for the backrest and its twin supports, but also for the four legs that cross underneath the seat. Just a another bit of information, the same year that Nelson designed the "Pretzel" Chair he also published a book dedicated to chairs, simply called "Chairs"!!
My ignorance can be blamed on the fact that this chair was only available for a short time because it was not an easy chair to produce. However, in 2008, on the 100th anniversary of Nelson's birth, Vitra placed the chair back into production in a limited Anniversary Edition of 1000 pieces. Nelson's entire archive is now part of the Vitra Design Museum.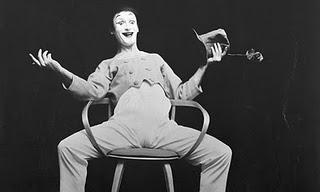 Photo courtesy of Vitra
The exhibition at the NYSID, "Modern in the Past Tense: Revisiting the Landmark Exhibition 'Design 1935-1965: What Modern Was'", presents some key pieces of furniture, borrowed from private collectors, to give us a sense of what was on view in the original exhibition. The show is on view through January 12, 2012. Visit their website for more information. http://www.nysid.edu/page.aspx?pid=717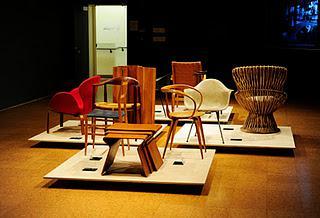 The installation at NYSID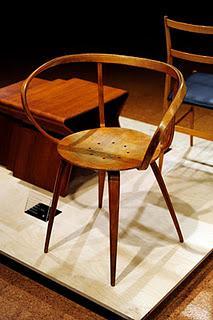 Nelson's "Pretzel" chair at NYSID
 The chair that I mentioned that is similar to Nelson's was designed by Norman Cherner and is available through Artifacts 20th Century for $1,200.
http://artifacts20thcentury.com/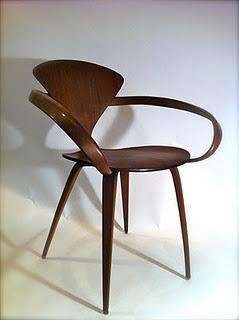 Cherner's "Pretzel" Chair at Artifacts 20th Century