Here is Lotus Pond VII, a departure from my other multi-panel Lotus paintings in that it is arranged vertically. It would be perfect on any wall that is narrow and vertical, like in a stairwell or foyer.
I wanted to capture how long and reaching the stems of lotus flowers are in real life–taller than most people! I love the symbolism of the lotus flower representing the human spirit's ability to transcend ugliness, as they grow straight upwards from the swampy muck of the pond towards the bright, clean, hopeful sky.
I decided to make the colors very rich and dark in this one, and I'm pleased with the result.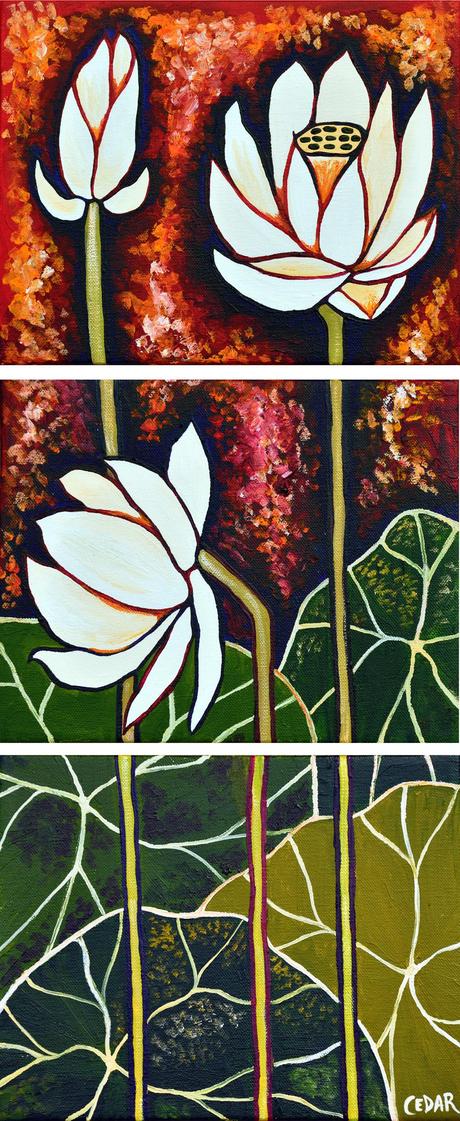 This painting has been added to my Nesting Sale: ArtbyCedar.com/NestingSale and will be on sale for 50% off until June 18th.
Less than 2 weeks left now in my sale, and I am not at all ready for the Open Studio that I'm hosting on the 18th, which marks the end of my sale and the beginning of my maternity leave! (Well, after all the sold work ships out anyway.) In the 13 days I have left, I must print out tags for all the art in my show, prepare my magnets (which will be discounted for attendees) and posters (free for attendees!) and buy wine and cheese and all that good stuff you must have at a proper Art Soiree.