Lost Sirens takes its place in New Order's generation-spanning discography, more than seven years after their last effort, Waiting for the Sirens' Call, was released. Recorded during the same sessions that gave birth to Sirens' Call, the band's newest record features their original line-up of Sumner, Morris, and the recently estranged Hook. Lost Sirens has its moments, brilliant and rivaling recent hits like "Jetstream" and "Krafty," however, there's nothing spectacular about the band's new release – save singer/guitarist Bernard Sumner's ageless vocals. While New Order (sans bassist Peter Hook) plans to continue touring and recording, Lost Sirens feels like a dour wave goodbye – a little too late and understandably out of touch with the times.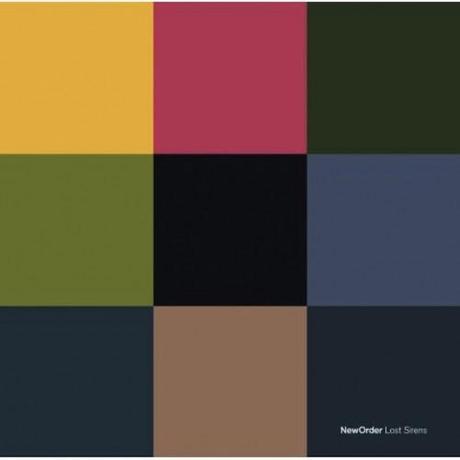 Despite Sumner's description of
Lost Sirens
as "a non-completed album," the record feels more cohesive than New Order's last effort. One may expect a record that was made throughout bouts of turmoil within the band to come out gritty and at-odds but this isn't the case with
Lost Sirens
. Without knowing how much of the album was finished before 2012, it's also easy to be disappointed by how similar it sounds to
Waiting for the Sirens' Call
. Well don't be, because
Lost Sirens
was supposed to be a double album released with
Siren's Call
. Eventually lost somewhere in the mess of Sumner and Hook's bickering, most of
Lost Sirens
was meant for 2005. Instead, we're hearing it in 2013.
The album starts with a nostalgic play on New Order's post-punk roots. "I'll Stay With You" teases with a pulsing electronic intro à la Depeche Mode's "Black Celebration" before drifting into a more familiar flow, Sumner devotedly proclaiming, "Oh, I'll change your mind / When will you surrender?" "Shake It Up" provides the familiar retro-dance beats and chorused shouts of 90's NO but falls short of resonating with any of the music being played in clubs today. In the album's final track, "I Told You So," Sumner sings, "It's an occupation I don't like / But it pays the rent and turns on the light" – a sadly believable commentary on the state of New Order. Reminiscent of The Velvet Underground, "I Told You So" is the only reprise from Sirens' Call, obvious that the band felt its message needed repeating.
New Order has masterfully maintained relevance within the pop and dance genres for over four decades, but now has sadly fallen out of touch with the culture they helped groom. Lost Sirens isn't a disappointment. In fact, according to Sumner, it's not even a "complete album." Who knows how the band will evolve next? Without Hook, they'll be missing a big part of what made them great and its safe to say that even with the original line-up they won't hold any real weight in pop again. For a fresh take on alt-dance, check out up-and-comers The New Division (yes, that's a Joy Division / New Order reference) and their new Night Escape EP.

3.5 / 5 bars
New Order – Hellbent (Original Mix)
New Order – "Hellbent" (Original Mix)
You can stream the full album at Rolling Stone.