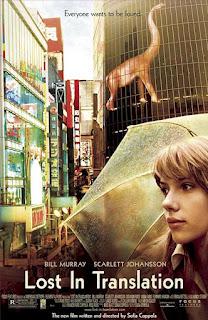 Some movies do not have an ending, much like our lives.
Lost in Translation
is one such movie, where a movie star with a sense of emptiness, and a neglected newlywed meets up as strangers in the city of Tokyo, Japan and form an unlikely bond.
Sofia Coppola, daughter of the legendary
Francis Ford Coppola
, has successfully painted a picture of relationships in the modern world. Bill Murray, who plays the character of Bob Harris, a famous movie star who is suffering from a mid-life crisis, has come to Tokyo to do a commercial for Suntory whiskey. He has lost its zest and purpose in life while doing whiskey commercials when all he wants is to act in a play. While his stay at the Park Hyatt Tokyo , he comes across a newlywed Charlotte, played by the innocently beautiful
Scarlett Johansson
. Charlotte is married to a photographer who is an workaholic played by Giovanni Ribisi. A student of philosophy seeking herself, her soul lost and adrift. She doesn't know who she is, doesn't know what she wants. Her life is a quest for authenticity of self. As they try to get past (quite unsuccessfully) their mundane lives, they form an unusual bond to complement their loneliness.
Both Bill and Scarlett has portrayed the claustrophobia of living in a strange land quite beautifully. They don't understand their culture, their dialect and they feel estranged, more so because of the being distant from their loved ones. On a larger perspective, Sofia showed through the movie how we have all become like islands, each island with their own dialect, who doesn't quite know how to interact with the people from the other island(s) since what we say, what we mean, all gets lost in translation. You would understand it if you have ever played the game of Chinese Whisper. But when two islands do finally get over their dialectic differences, which are actually the differences that we share in our personal lives, they can share even their silences together.
An amazing
Cinematography
by Lance Acord (Being John Malkovich, Where the Wild Things Are), who gave the whole movie a mellow touch, and Music by Kevin Shields quite matched the theme of the movie. And when Sofia Coppola first thought about the script of Lost in Translation, she wrote the character of Bob Harris keeping Bill Murray in mind, so he slips into the character with quite an ease. Scarlett Johansson looks unusually pretty, but doesn't just stop there and goes on to show her acting skills till the last scene of the movie where the expression on her face depicts myriad emotions trying to come out of her but all that came out were tears and a beautiful smile.
In the last scene of the movie where Bob whispers something inaudibly in the ears of Charlotte, we are left to ponder what he might have been his last words for her. But by that time that characters of Bob and Charlotte has become so real that even we let them have their own privacy. And we leave them there, not quite ending the movie but letting it move on, like in real lives.
The story of
Lost in Translation
would linger on in your mind for hours after you have finished watching the movie, it would make you think, is your life getting lost in translation too?