A couple of weeks back I decided – as they seemed determined to scoff it anyway – to let the Cabbage Whites have free range of the brassica bed. The grand idea was to feed the leaves to the chickens, complete with all the fat caterpillars, ridding the garden of the plants and the insects in one fell swoop.
However, this cunning plan has slightly backfired. Firstly, the girls have now decided they've had too much of a good thing, are tired of caterpillars, and point blank refuse to eat them. And secondly, this solution would have been a winner if the caterpillars had actually stayed on the brassicas. But they didn't. I turned my back for just a second, and the little blighters are now EVERYWHERE! They're rampaging all over the rhubarb, celery and  beans, and some have even snuck into the greenhouse and are having a go at the tomatoes and peppers in there. They've even chomped the baby cabbage plants I had grown ready to plant up into the beds.
Deciding enough was enough, I pulled out every last remaining brassica plant, and dumped them unceremoniously in the brown bin. Enlisting the help of the youngest, we then set to work rounding up any caterpillars that were left behind. This was no mean feat, as they were out in their droves. The more we peered, the more we found and we'd soon amassed a huge collection.  As the chickens aren't keen, these went into the pond as tasty treats for the fish.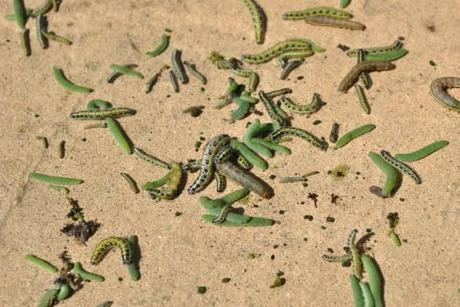 The caterpillar collection
Next year I think I'll give brassicas a miss. I just don't think they are for us anymore. Mrs Cabbage White can go and lay her eggs in someone else's patch, thank you very much, and I'll be growing more stuff that we actually like to eat.
That done, the garden still needed a bit of a tidy up. The strawberries have well and truly finished, so that bed got a good haircut to allow the plants to rest. I've been planting up some the runners in pots, and these have rooted, so I'll have a good stock of healthy plants for next year.
The peas have also stopped producing and the broad beans are now past their best. There were a couple of random pods left, but nothing to write home about inside – which is hardly surprising as they have all been cropping since early spring. Out came the finished pea and bean plants and into the empty space went a row of Swiss Chard (a brilliant alternative to spinach) and a row of lettuce. With any luck these just might just produce a harvest for later this year.
I then dismantled the cane and string wigwams and frames that had been supporting the plants. As I carefully wound up the string and put it safely in the shed to reuse another day, I seriously wondered if I was actually turning into my Grandad…
This appeared in The Hinckley Times on 29 August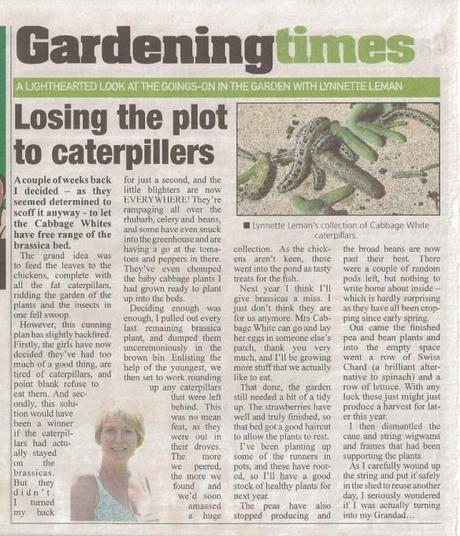 The Hinckley Times – August 29 2013