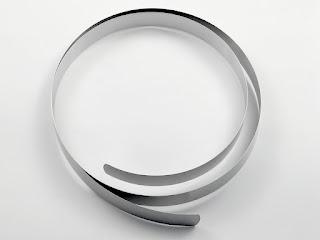 LOOT has always focused on showing exemplary works from established artists. This year edition is no different with the inclusion of renowned jewelry artist, Eva Eisler. 
Eisler is certainly not new to the the jewelery world, in fact she is considered to be one of its most important stars. Although the Czech-born Eisler lived and worked in New York for two decades, she went back to her native country in 2005, and is now the  chairman of the metals department at the Academy of Arts, Architecture and Design in Prague. Her stainless steel sculptural gems are simple and restrained yet have incredible presence.
LOOT also invited several of Eisler's students to participate in this year's show. These five incredibly talented women are Lucie Houdkova, Alena Hesounova, Karla Oslakova,  Katerina Rezacova, and
Nastassia Aleinikava, who I wrote about in a previous LOOT post.
Lucie Houdkova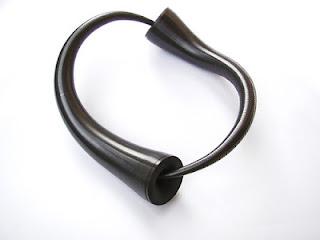 When I read that Houdkova's work is a "study in contrasts", I was curious to see how true this was as often when an artist becomes comfortable with a particular material or look they to repeat it. But Houdkova's is incredibly varied, she makes neck collars out of tracing paper, earrings from fuzzy fabric balls, and brooches from PVC. Each piece is one of a kind. 
Alena Hesounova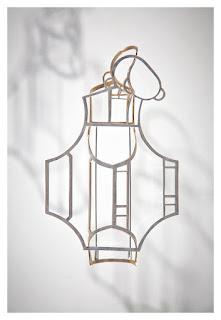 Hesounova's jewelry is quite unusual, she fills glass bubbles with oil and attaches them to shanks, makes brooches out of quail eggs and adorns metals with glass beads. Her inspirations are just as varied as her materials. One collection was inspired by Czech sacral architecture and another by the work of Piet Mondrian.
Karla Oslakova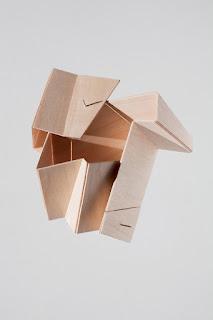 "Oslakova chose three elements from Lewis Carroll's Alice's Adventures in Wonderland as inspiration for her jewelry: the mirrors, the chessboard, and the dramatic changes of proportion. Olsakova evokes these elements through her use of wood, steel, plastic film, and silver. For example, in her massive wooden brooches, the steel constructions evoke the mirror, while the wood veneer, held in place by plastic film, allows the brooch to transform in shape or even become a necklace, representing the chessboard and changing proportions. In her next collection, Olsakova plans to further develop her mirroring effects by using different techniques to approach these same materials."
Katerina Rezacova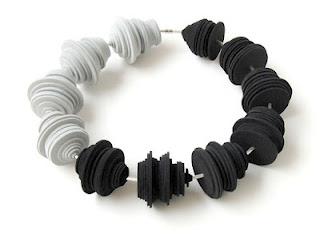 Inspired by graphs, Rezcova aims to replicate their patterns in her Graphellery collection.