Welcome to the New, Improved, and Self-Hosted My Girly Parts! Woohoo!!
The transition went a lot smoother than expected, once I got my thoughts together about this Genesis theme. Shew! What a lot of fun!
So, as I mentioned before, you were previous Registered on the other site, you will need to re-Register on this site. As soon as my girly, Holli from Fitwellmom registers, I can repost her Kryptonite!  guest post.  (hint hint)

If you're interested in being a Featured Guest on My Girly Parts, please read Be A Guest. As always, there are many ways you can follow My Girly Parts.
Facebook
Twitter
RSS
Email
You can find these easy links at the tops of the right-hand sidebar and in the top navigation bar.
In other news……………….
If you're a football fan, you might have just watched the 49er's come back and beat the Falcons.
WOOHOO!! GO NINERS!!
Shew! Whoops…………….sorry Falcons fans. It was a superb game! Next, we get to watch the Ravens go up against the Patriots. I have to admit, I'm a fan of neither. I have friends that are both Ravens and Patriots fans but if I had to choose a team to win this one, I have to go with the Patriots. (Just so I can have a lil Superbowl fun with my girl Lisa!)
Either way, my team, the Saints, obviously didn't make it this year. They have a lot to work on in the off-season and hopefully BRING IT next year! As with everything else, I always have a 2nd or a back up and that's the Niners. I was a fan way back in the day but when Hawtie Steve Young left, I left em.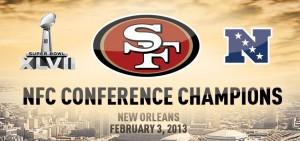 Woohoo!
In other news……………………..
There is a Giveaway happening over at Pibbles & Me. If you have a dog or multiple dogs, head on over and enter to win! Who doesn't love FREEBIES?!?
Lastly, I wanted to get a "test" post up and this will serve as just that. I'd like to test all the sharing options, comments, avatars, etc. and just make sure all is running smoothly. If you find something wrong or something that does not work, please let me know as soon as possible by commenting below or by emailing me at [email protected]
Ok, I gotta tend to a needy lil pit bull so I'll leave ya'll to your football games and what nots!