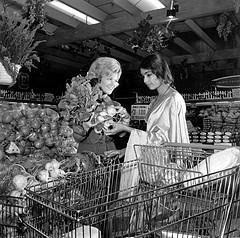 Image by State Library and Archives of Florida via Flickr
This morning on the 5:15 call – I've mentioned this call before – it's a group of professionals who want the accountability and inspiration of a group – who call into a conference line at 5:15 five days a week – if you're interested email me: [email protected]
This morning the call was led by Sue Fay – she's writing a miracle a day and documenting it on her blog – you can check it out here: www.miracleaday.intuitwebsites.com
The lesson was about teachers – and most everyone on the call shared a memory of someone they learned something from – favorite teachers and why – kids and parents that provided great lessons.
However Joe, another fabulous leader and coach, simply said that when you are looking for learning you find it everywhere – like at the grocery store.
Simple, elegant – true
When we open our minds to accept, to learn to question – we win in multiple ways.
What lessons have you learned lately? How can you open yourself up to learning today?
Remember – you create your day by the way you think. Make it magnificent!
Blessings, Shawna
www.PeopleSkills.us