Halloween is right around the corner. In my house growing up, this was a big deal. I can remember Halloween parties at our house and bobbing for apples in the backyard. Trick-or-Treating in my Grandmas' neighborhood (yes, they both live in the same neighborhood) was always a fun time. What I remember most is trying to decide who to be. Should I be a princess, a witch, a superhero or a serial killer?
Below are 10 literary costumes that would be perfect for this year's Halloween festivities.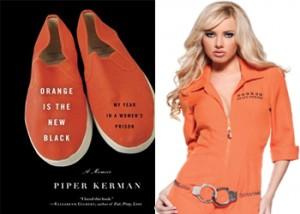 Piper Chapman – Piper Chapman, the fictional, beautiful yet industrious prisoner on the Netflix original Series Orange is the New Black, is based on the original Piper who wrote a novel around her experiences behind bars after she found herself incarcerated. Piper represents a social class that isn't often scene in the minimum security facility and she captures the attention of both her warden and the other inmates. It just goes to show, no matter where you end up, your past can always find a way to bite you in the ass if you're not careful.
Orange scrubs and a clip on name tag make this outfit a breeze. Or try a flirtier version by employing an orange short jumpsuit and handcuff accessories.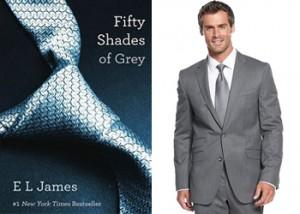 Christian Grey – It won't take too much imagination to come up with the outfit to depict the world's most famous participant in the BDSM lifestyle. Wealthy, experienced Christian Grey can't seem to get enough of submissive, naïve Ana. Like Ken and Barbie, Christian and Ana are a great idea for a couple's costume… Just make sure to agree on a "safe word" before the night's festivities begin.
A gray suit and gray tie tastefully partnered is just what you need for this outfit. Have a little fun by filling the suite pockets with handcuffs and a blindfold.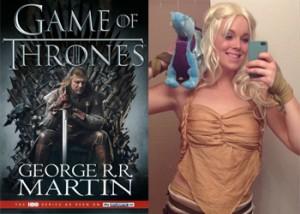 Daenerys Targaryen – Dany, exiled from the Seven Kingdoms, finds herself as the wife of Kahl Drogo and a born leader of the people. The moral compass of Dany's heart leads her to advocate for things such as abolishing slavery but the greed of ruling the Seven Kingdoms and reclaiming the throne for her family's sake cannot be squashed.
A long blond wig and some tattered brown medieval clothes should do the trick. Or try a brown pare of elastic wasted shorts and a matching headscarf you can fashion into a tube top.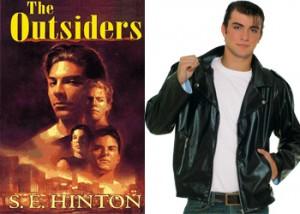 Darry Curtis – Darry Curtis is the older brother of Sodapop and Ponyboy, and the leader of the urban 1950's gang known as the Greasers. A high-school dropout, Darry is the more responsible of the gang members as he tries to keep custody of his younger brothers while working construction to maintain their house and feed the mouths of the gang members. When Ponyboy finds himself in both legal trouble and mortal danger, the hard-shelled disciplinarian breaks down in tears and vows to do whatever it takes to make sure his younger brother doesn't see the same trouble again.
Dark jeans, a white t-shirt, black leather jacket and some greasy hair jell is just what you need to authenticate this look. Go all out by employing some black eye liner and mascara.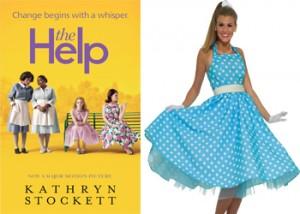 Skeeter Phelan – Idealistic Skeeter Phelan returns from college to her southern hometown to learn that nothing much has changed since childhood. A budding reporter trying to make it in a man's profession, Skeeter takes the assignment to write a column answering domestic questions but needs to employ the help of her friend's colored maid in order to do it because she has no experience dealing with stains and furniture polish. As Skeeter gets to know her new friend, she desires to bring the stories of the help, mostly unappreciated in the background, out to the forefront in an effort to earn them more respect in their profession.
A 50's style poodle skirt or dress is just what you needs. Pair the dress with oversized pearls, lacy gloves and a beehive hairdo.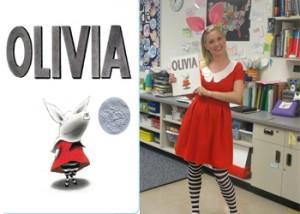 Olivia – Inspired by the author's niece, Olivia the pig engages her young readers in the everyday life of a child including going the circus and traveling to Venice, Italy.
Black and white stocking, a red doll baby dress and some pig ears are all you need to bring this simplistic character to life.
Katniss Everdeen – This District 12 citizen is the first ever volunteer as tribute to the Hunger Games. Unfortunately for The Capitol, they have no ideas what they've done when they unleash the Girl of Fire who instigates a rebellion after beating the Hunger Games by saving both herself and her District 12 partner, Peeta.
Cargo pants, combat boots, a man's leather jacket and a toy bow and arrow set are all you need to bring out your inner Katniss.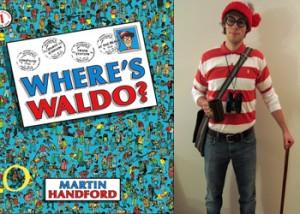 Waldo – The beloved globe trotter, Waldo also finds himself in the most interesting crowds including the Pyramids of Egypt and the Great Wall of China. Just don't be surprised if every addresses you as "Hey Waldo, I found you!" for the entire night.
A white and red striped hat and t-shirt, black rimmed glasses, blue jeans and a walking stick will transform you into Waldo very quickly. Try adding more accessories such as a traveling satchel or binoculars to really authenticate the look.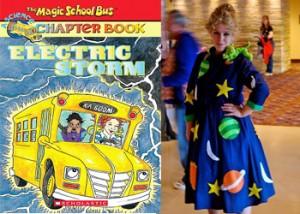 Ms. Frizzle – Ms. Frizzle is the most awesome field trip teacher to ever grace the pages of children's literature. Her magic school bus takes her and her class everywhere from outer space to under the sea as she uses their experiences to teach the class about historical events and scientific concepts.
Adding felt planets, stars and  moons to a dark blue dress will go a long way in bringing out Ms. Frizzle.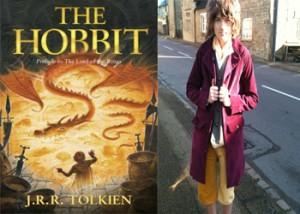 Bilbo Baggins – What better place for a reclusive, antisocial hobbit to be than traveling across Middle Earth with a family of dwarves who seek the dragon Smaug to reclaim their family home and treasure. An unassuming character, Bilbo earns his place amongst the dwarves by proving his bravery and cunning in the face of enemies such as Trolls and Goblins.
Visit your local costume store to see what they have in hobbit ware. Specifically look for hobbit hair and hobbit feet. The simply tailored clothes that are common to hobbits can be easily created at home if you have experience in clothes making.
Bonus Picks: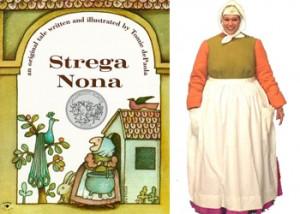 Strega Nona – This aging witch comes with a magic pot of pasta. Stega Nona sings a magic spell to conjure pasta in her pot and then blows three kisses to make it stop producing. When she leaves town her assistant Big Anthony tries his hand at conjuring pasta but forgets how to stop it from producing. When Strega Nona returns to find the town covered in pasta, she blows three kisses. To punish Big Anthony for misusing her spell, she commands him to eat all the pasta he has conjured.
An orange pilgrim's dress with white apron and Dutch hat is just what is needed to impersonate this witch. Add a prosthetic nose to the outfit if you can.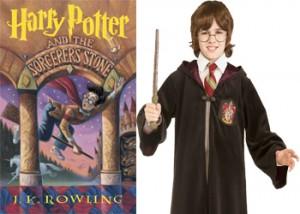 Harry Potter – If you have a recent graduate in your home and a tree in your yard, it won't be hard to impersonate the broody Harry Potter. Raised outside of the Wizarding World, Harry Potter becomes a student of Hogwarts School of Witchcraft and Wizardry only to unleash the persistence of his long-lost enemy Voldemort. While Harry hates Voldemort for killing his parents, Voldemort is intrigued by Harry who is the only person who has ever lived after receiving the death curse.
A black graduation gown, gold and red striped scarf, black rimmed glasses and a 18-inch stick from your backyard will be all you need to bring Harry Potter to life. Don't forget to take an eyebrow pencil and draw the lightning bolt scar on your right temple.
Whether young or old, conservative or flamboyant, there's a fictional literary character just waiting for you to try on for the only holiday in the US where you're encouraged to be anything or anyone other than yourself.
What are you planning to be for Halloween this year?