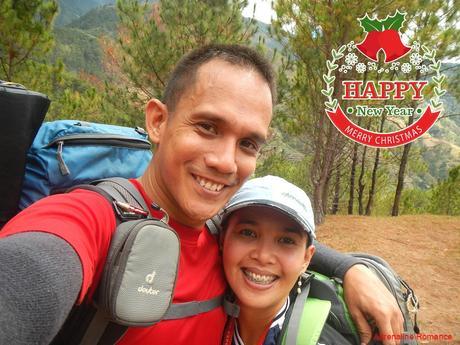 "It is going to be our year, Sweetie," Sweetie Sheila assured me after the business model of the online company I've worked with for the past 3 years changed for the worse. She must have the power of premonition because 2016 was one of the best years in our adventuring lives. Not only was I able to get a dream job in a company that actually supports our passion (yes, both of us), but Sheila and I also had a myriad of heart-stopping and exciting sojourns that left us breathless with happiness.
In fact, dear readers, we consider 2016 as our most adventure-filled year. We had so many trips and adventures that we consistently suffered from backlogs, a first in our 4-year blogging history! Let's review where we took you this 2016.
Our first adventure was exploring Mainit-Mabugnaw Cave in the nearby town of Carcar, Cebu. Together with members of our partner Outpax, we enjoyed rappelling down almost a hundred feet from a hole in the roof of the cave. It was an excellent start and an indication of what became an exemplary year of adventure.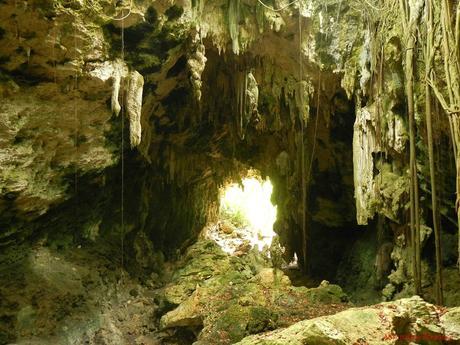 Osmeña Peak in Mantalongon, Cebu has become terribly congested due to its popularity. It's a good thing that, Sir Sien, a good friend and one of the founders of the outfitter Freedom Canyoning, invited us to an initial guided trip to an alternative mountain, the equally scenic Candongao Peak. Straddling the boundary between the municipalities of Dalaguete and Badian, the rocky peak offers stunning views of karst formations and checkerboard farms. But to enjoy the scenery, visitors must first undergo a long trek in varied terrain. Hey, that is a part of the adventure.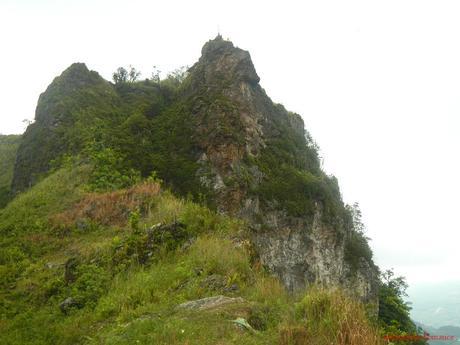 One of the best trips we've ever had was in Samboan, the waterfall capital of Cebu. Upon the invitation of Sir Irwin of the Samboan Tourism Office, we visited magnificent waterfalls whose beauty were unsurpassed. We also had the chance of exploring a tiny part of the rich and vibrant Colase Marine Sanctuary, which is probably the largest protected marine sanctuary in Cebu.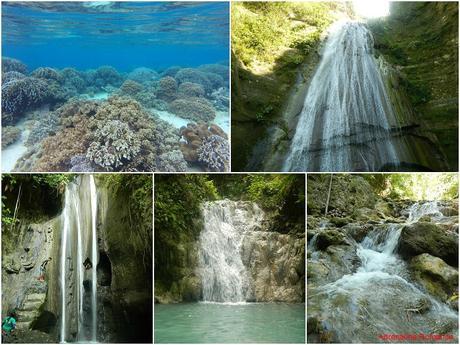 We never knew that the small and humble island province of Biliran is a venue for extreme adventures. Sir Joni Bonifacio of the renowned Samar-based outdoor adventure outfitter Trexplore the Adventure, invited us to try out canyoning in the mighty Sampao River in Biliran. We have to tell you, this was one of the most extreme and best outdoor activities we've ever experienced. We played in Mother Nature's playground—wild, dangerous, and beautiful! We highly recommend you to try canyoning in Biliran.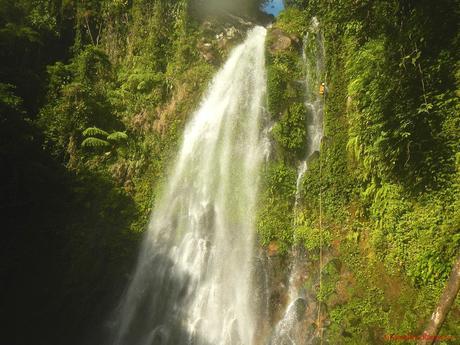 As a relaxing side trip and reward for successfully surviving the Biliran canyoning adventure, we cruised to nearby Sambawan Island. It was one of the most scenic islands we have ever visited. Too bad we didn't bring enough money; we heard from the grapevine that Sambawan Island is surrounded by pristine dive sites. What's more, the channel we crossed to get to Sambawan Island is shark-infested. It would have been a great opportunity to see actual sharks in the wild.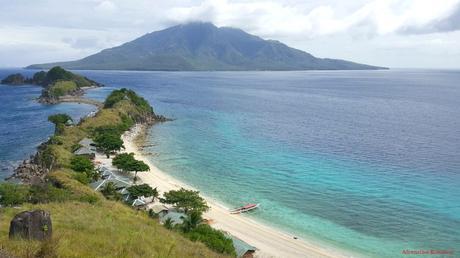 Being avid adventurers meant that we need to be in the best of health. While Sweetie and I are health buffs, we always welcome all activities that involve a healthy lifestyle. So, we joined a health camp, an overnight camping event organized by Outpax, at the Tuble Marine Sanctuary in Moalboal. We visited an eco-farm, stretched to an early morning yoga session, and swam above healthy coral reefs. Oh, and did you know we also judged a healthy-food cooking contest? The meals, carefully prepared by fellow outdoorspeople, were restaurant quality!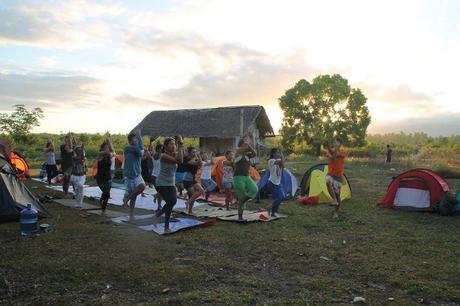 Our passion of enjoying the wilderness may hold a lot of fun and excitement, but the dangers we face in every adventure are very real. Injuries and mishaps can happen any time, anywhere. Thus, it is always better to be prepared. We joined a basic wilderness first aid workshop conducted by Outpax, BCERT, and Camp Red. The important emergency response techniques and protocols that we learned could save a life.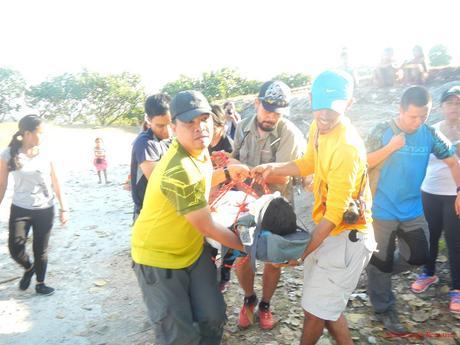 Avid readers and followers of Adrenaline Romance would readily know that we are strong advocates of preserving and protecting Mother Nature. Therefore, we readily agreed to take part of the reef cleanup event called MyBluEarth. The event is annually organized by Maribago Bluewater's Project BLUE, and this year, we helped in plucking out trash at the Maribago Bluewaters house reef. We had the honor of being part of the Scubasureros, a team of underwater eco-warriors.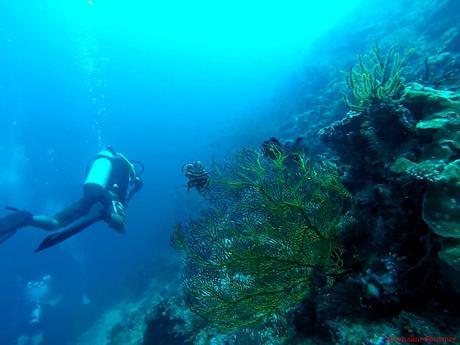 The best things in life come in the most unexpected circumstances. In our case, some wonderful strangers and good Samaritans treated us to an amazing impromptu tour in Roxas City. We got stranded in the city on our way to Sibuyan Island to climb the daunting Mt. Guiting-guiting. However, Ate Ville and the Asis family welcomed us with open arms, fed us with delicious food, and sheltered us in their hotel. This experience made us realize there are a lot of kindhearted strangers who are always ready to help other humans in need despite the cruelty, distrust, and hatred in the world.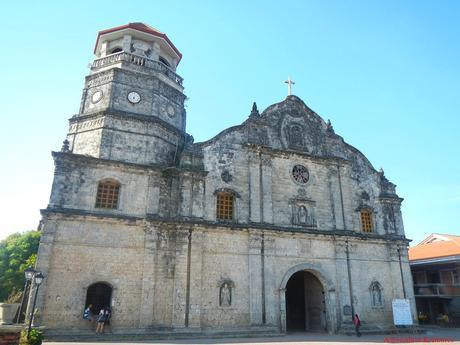 Reaching the summit of the formidable Mt. Guiting-Guiting is every Filipino mountaineer's dream. The isolated mountain, located in the lonely island of Sibuyan, is among the most technically challenging and dangerous mountains in the country. Our 27-hour climb in Mt. Guiting-guiting was the most difficult, most tiring, and the most awesome climb we've ever had. We scrambled on razor sharp rocks, climbed in complete darkness, negotiated treacherous cliffs, and battled wind chill and total exhaustion. But the effort was totally worth it. We enjoyed the incredibly beautiful scenery, discovered rare flora and fauna, and made friends with Mangyans. Most importantly, we learned that willpower and determination will always win against doubt and adversity during our borrowed time in this world.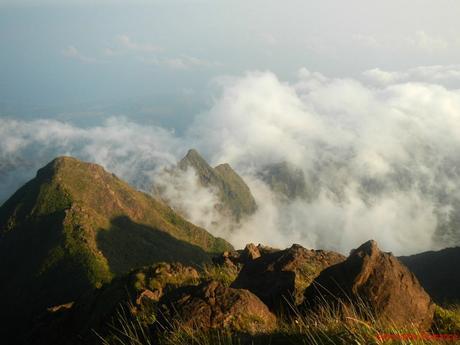 Every exhausting but successful climb deserves a relaxing side trip. So after our momentous Mt. Guiting-guiting climb, we resigned ourselves to being simmered alive in an old cooking vessel that was originally used to process molasses. The kawa hot bath in Tibiao was totally relaxing and was a warm balm to our sore muscles. Later, we cooled our bodies in the chilly waters of Bugtong Bato Falls. Yes, it was a mini adventure in the highlands of this scenic part of Antique!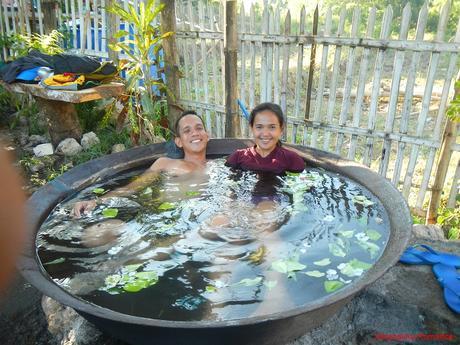 On our way back home from our epic climb, we stopped by the Bakhawan Eco Park, a successful mangrove reforestation project under the supervision of the Kalibo Save the Mangroves Association (KASAMA). This lofty natural park is an ideal example of how mankind can be a significant driving force in its healing and restoration processes.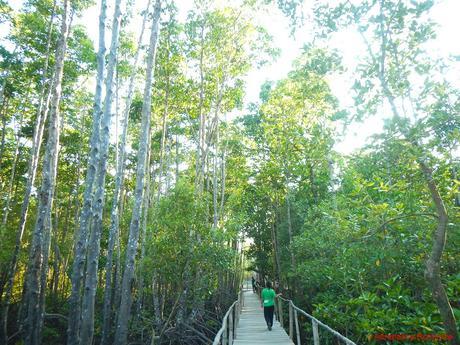 Rewarding oneself is vital for relaxation, rejuvenation, and re-asserting one's self-confidence. Alexa did well in her grades, and we did excellently at work. Together with a few close friends, we decided to reward ourselves by visiting the tropical paradises of Islas de Gigantes in the Iloilo province. This small cluster of islands holds many wonders such as sandy beaches, mysterious caves, strange rock formations, and more. It's a destination worth visiting.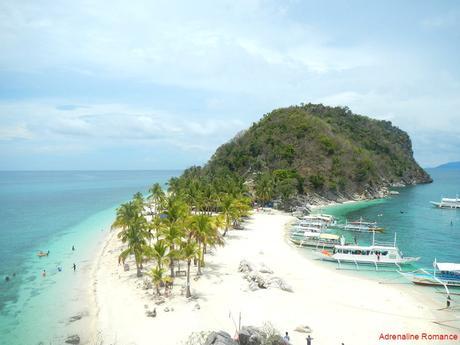 The dark realm beneath the ground is mysterious and enchanting, yet a dangerous place. Sir Joni of Trexplore the Adventures gave us the opportunity to discover and explore these alien kingdoms through an intense 4-day caving adventure in Catbalogan, Samar. Our first adventure was inside Lobo Cave, touted as one of the most beautiful caves in the country. And it truly lived up to its name with its rushing underground waterfalls, crystalline chambers, massive canyons, and more.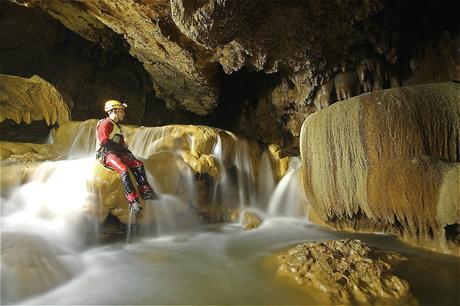 (Photo Credit: Edgar Alan Zeta Yap)
It's like entering into a silent, forgotten kingdom of crystals! With all its gigantic crystal stalactites, ice-like stalagmites, delicate helictites, and glittering flowstones, Central Cave is truly one of the most spectacular caves we have ever visited. Here, we actually saw rock formations birthing and dying in their own complex way. Getting to this cavern is as exhausting and dangerous as it is exhilarating as it involves a 3-hour hike, numerous river crossings, and abseiling 60 feet in the darkness.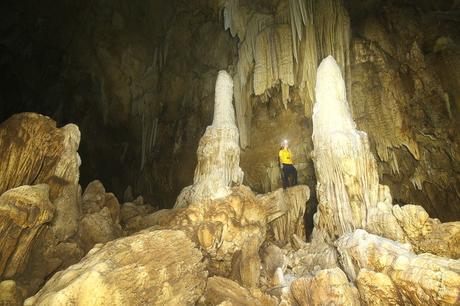 (Photo Credit: Edgar Alan Zeta Yap)
Climbing an underground mountain. Sleeping in the belly of a cave. Being investigated by pesky crickets. Exiting to a what seems like a hidden tropical forest in the Jurassic era. Welcome to the monstrous Langun-Gobingob Cave in Calbiga, Samar, the largest cave system in the Philippines. Everything here was a new and superlative experience for us! The Langun-Gobingob Cave is worthy to become one of our country's most amazing wonders. It also opened our eyes to the fragility of cave systems; how easy it is for man to destroy Mother Nature's million-year work.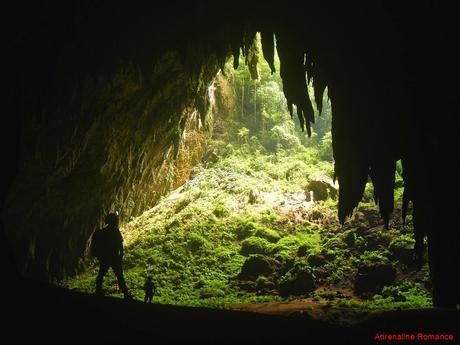 The ber months (September to December) are an ideal season for exciting sojourns, considering our tropical climate and virtually all-year sunshine. At the invitation of the Cebu Bloggers Society, we had an awesome time in Malapascua, one of the most famous resort islands and diving destinations in the country. We explored vibrant coral reefs, frolicked in the aquamarine water, buried our feet in the sand, and jumped off rocky cliffs. Mr. Jose Amistoso of the homey Malapascua Budget Inn was an excellent host and sponsored our stay in this lovely island.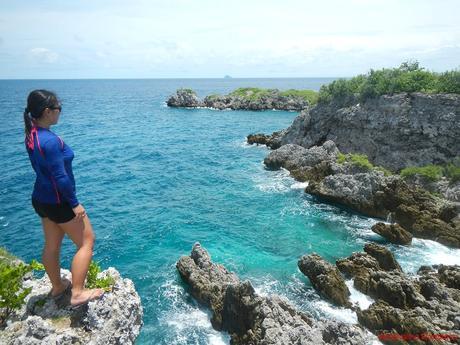 Now there's no excuse for us not to climb. Not from rainy weather, lack of budget, shyness, or sheer exhaustion from a long ride to Toledo City. That's because our friend, Tiki Allado, has set up a bouldering cave right in his own garage in Lapu-lapu, our home city! The Payag Bouldering House is a cool place to hang out and to practice bouldering techniques. Because it is located in a residence, you are assured of a very relaxed, humble, and happy atmosphere.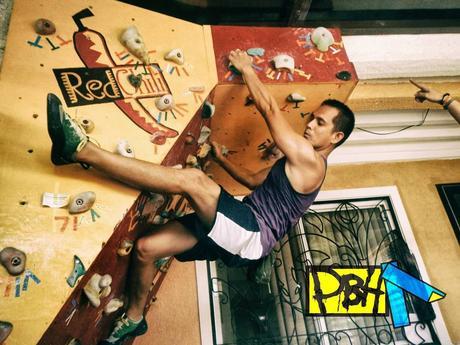 Some of the best vistas are right smack in our own humble Cebu Island. Together with BASO group of outdoorsmen along with Sir Enie, our rock climbing coach, enjoyed a weekend on top of Mt. KM 28 in Toledo. The trail traverses green farms, grassy hills, and lofty forests. It was also Sweetie's friend Lorraine's first true camping experience. But the adventure didn't stop after we exited the mountain. We went back to Cantabaco to have some abseiling fun!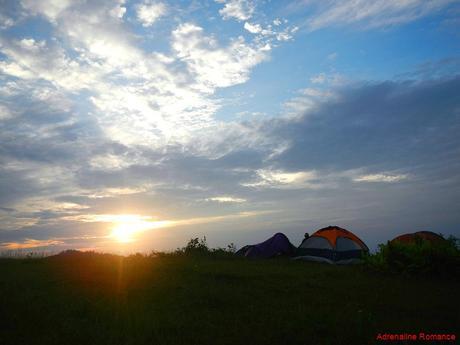 Verdant Mt. Igcuron in Antique has been in our sights for quite some time. This year, we had a chance to finally climb this beautiful, grass-covered, multi-peak mountain. We have to tell you, it is one of the most dangerous peaks we've ever climbed. We had to fight waves of vertigo while walking along razor-sharp knife-edge to the summit.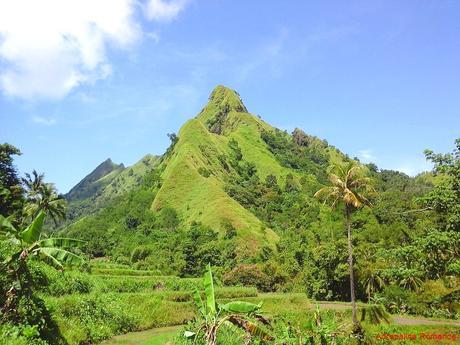 Climbing is a healthy and fun activity for everyone, from kids to seniors. The Adventure Central indoor climbing gym in Iloilo City provides a great venue for those who want to venture out into the world of climbing. It is an ideal family activity venue, a barkada hangout, or a training center for those who want to excel in the sport of climbing.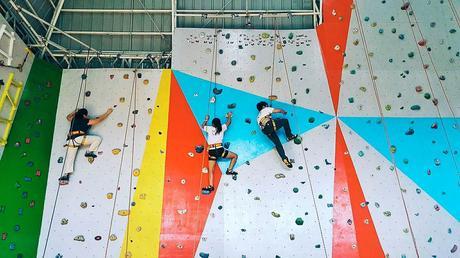 (Photo credit: Adventure Central)
We decided to have a Yuletide break that feeds our mind, soul, and sense of patriotism rather than our tummies. Hehehe! For our last-quarter adventure, we headed to charming Vigan, one of the last Hispanic towns left in the Philippines and a UNESCO World Heritage Site. We immersed in nostalgia, fully appreciating our rich history and culture.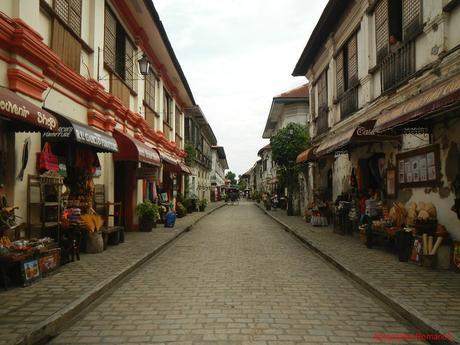 Of course, no year of ours is complete without fun-filled weekends of rock climbing. We scrambled up the crag with ourselves, our friends, and a group of bloggers. For us, happiness is rock climbing!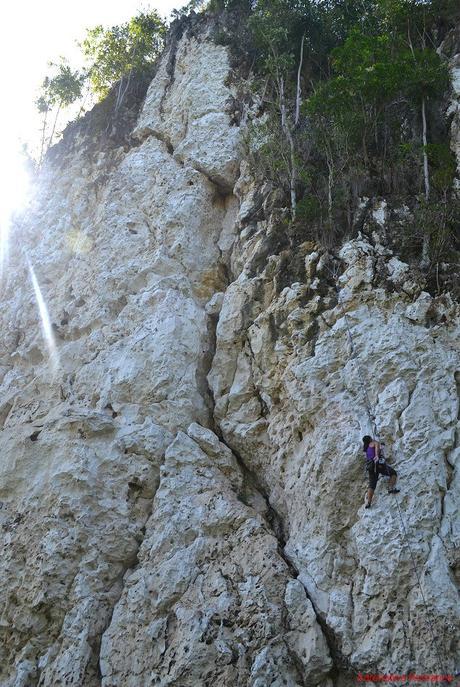 Milestones
As you can see, 2016 was a year of wonderful trips and incredible adventures. But little did we know that those were just a part of a big, delicious cake. Through your wholehearted support, dear readers, we were able to accomplish some unexpected milestones. Until now, we still could hardly believe we were able to achieve these spectacular turning points in our blogging lives.
Our grandest milestone was being officially inducted as brand ambassadors for the German outdoor-equipment brand Deuter. This is a dream come true; ever since we started traveling and adventuring, we have always been die-hard Deuter fans and users. Nothing in our wildest dreams would have prepared us for that simple FB chat that stated we are now one of their product ambassadors. So it's a huge honor for to represent Deuter.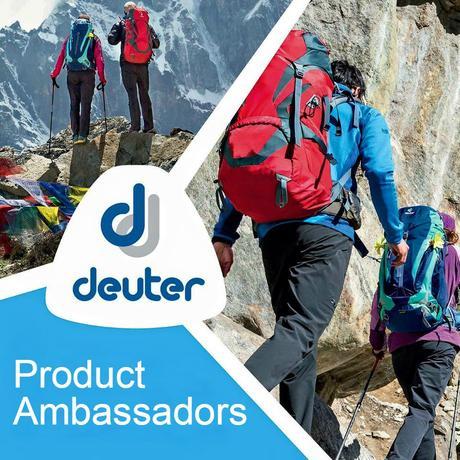 (Photo credit: Deuter)
Adrenaline Romance was among those nominated as finalists in the Best Cebu Blog Awards of 2016. The BCBA is heralded as Cebu's premier and most prestigious award-winning body for bloggers. We were privileged to be part of this event. We would like to thank all the organizers, sponsors, and participants for making BCBA 2016 successful. Congratulations to the winners and finalists of the other categories.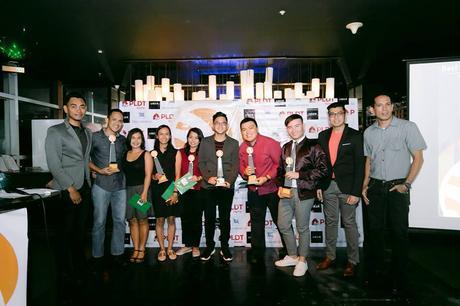 (Photo Credit: Best Cebu Blog Awards 2016)
Because of your continued and unwavering support, Adrenaline Romance bagged Cebu's Best Blog 2016 Award! That was totally unexpected. Our fellow finalists for travel and other niches are tough and equally deserving of this award. If only there were more Best Cebu Blog 2016 trophies! Thank you so much, readers, followers, fellow bloggers, officers and members of the Cebu Bloggers Society, and friends.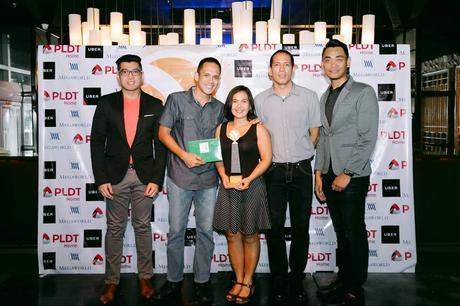 (Photo Credit: Best Cebu Blog Awards 2016)
We didn't expect this award! We swear! In fact, when our names were called, we almost fell off our chairs and looked at each other in disbelief. Adrenaline Romance won the Cebu's Best Blog of 2016! This award was courtesy of the giant Megaworld Corporation and The Mactan Newtown. Our thanks to you cannot be fathomed. Sheila and I couldn't have done this without you.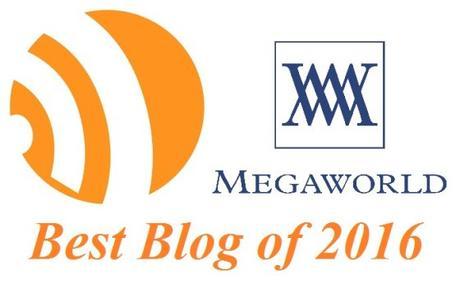 Rustic Antique is an underrated province. But Antique has stunning wonders, lovely natural attractions, and heart-stopping adventures that defy imagination. We also saw how a community-based involvement can boost tourism, improve the livelihood of the locals, and protect the environment. This was the first time we received an invitation and a sponsorship from the Department of Tourism for a week-long Explore Antique familiarization tour. For that, we are truly grateful. Explore Antique today!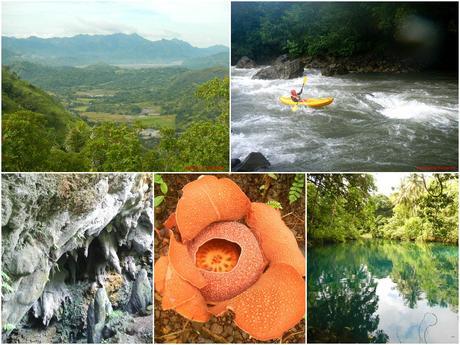 We joined hands with other companies and entities that, in their own way, help the outdoor community. We partnered with Outpax, a social network for outdoorspeople; Kai Adventure, a manufacturer of outdoor fashion; Sinaya Cup, an entity that manufactures and sells menstrual cups; and Trexplore the Adventures, the leading outdoor adventure outfitter in Eastern Visayas.
During the last quarter of the year, we supported Sir Jing, bushcrafter and owner of Warrior Pilgrimage blog, in the test thru-hike of the first long-distance hiking trail in Cebu. The Cebu Highlands Trail (CHT), which covers a little over 400 kilometers, is his pet project. Once completed and established, the CHT will be another pride of Cebu.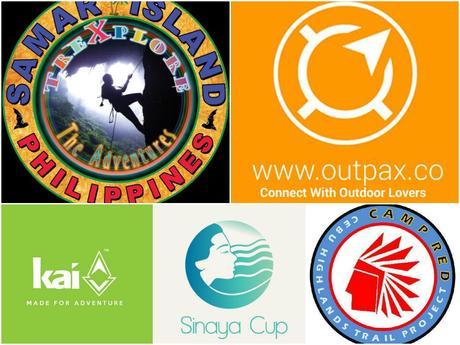 Here's another first for us! We were featured in the September to October 2016 issue of Filipino Life. Filipino Life is a Bahrain-based magazine that showcases the stories, news, and features of Overseas Filipino Workers and Migrants around the world. It also provides insights about the Philippines and the amazing Filipinos who live in the country.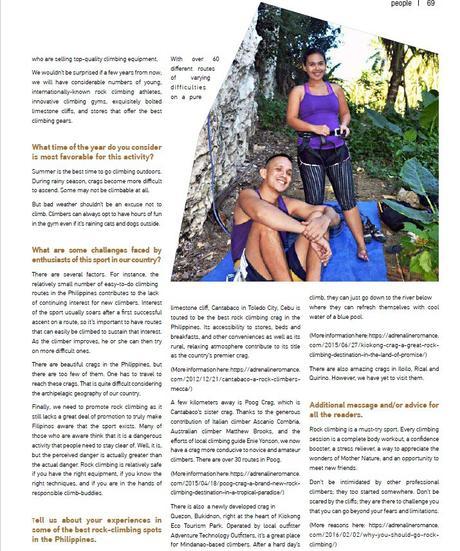 Special Thanks
Through constant use, our old Nikon AW100 camera began to fail. Obviously, we got quite worried since that camera is our blog's lifeline. But rescue was on the way. Thank you very much, Tita Amy Jessup and Papa Nonon Jubela, for providing us financial support so we could purchase this brand-new waterproof Fujifilm XP90. This is one Christmas gift that we will never forget.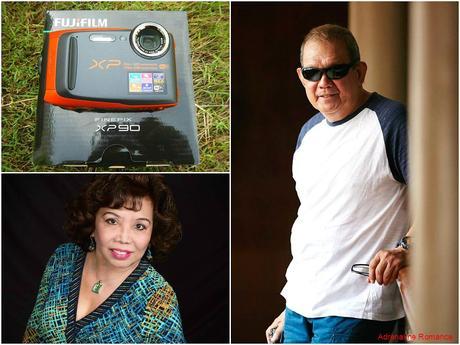 We would like to express our gratitude to Ate Ville, Ma'am Rucel, and Sir Ruel (not in the photo) for taking care of us when we got stranded in Roxas City. We would have paid them, but they insisted that their kindness was not to be paid in cash. Their generosity and hospitality are beyond compare.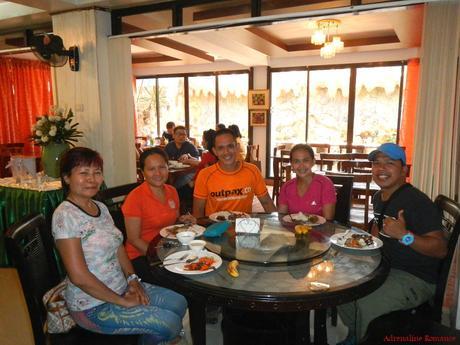 Thank you to all the hardworking and diligent guides, porters, tourism officers, outfitters, and service providers who assisted us in all our adventures and trips. They made sure that our sojourns are exciting, fun, and safe. In our hearts and minds, they are truly indispensable and the true heroes of our adventures.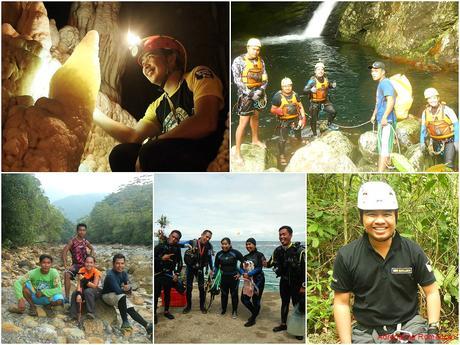 Old friends and new buddies, thank you so much for your support. Thank you so much for accompanying us in our sojourns. Our trips and adventures wouldn't be as much fun if it were not for you.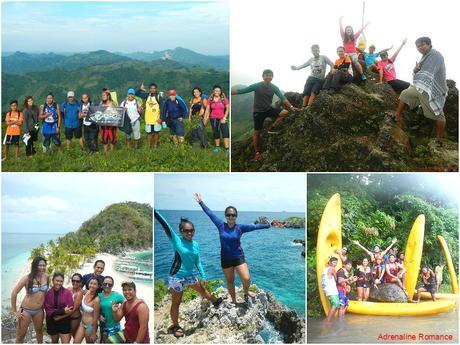 Most of all, we give our deepest and biggest appreciation to you, dear readers, viewers, and followers, who have been with us all the way. Without you, we never would have made it this far. It is not an exaggeration to say that you are our inspiration. Check out the ultra-impressive stats below; this year, we accomplished our first million views! Let's celebrate your triumph:
1,130,000 blog views
737 blog followers
3,107 Twitter followers
3,648 Facebook followers
1,543 Instagram followers
2016 was our year, and what a wonderful time it was! We wish you and your loved ones a Happy New Year! We are extremely excited for what's next behind the door. In fact, we have already booked airline tickets, emailed outfitters, and planned out our itineraries! Pack your bags, strap on your shoes, and don't forget your cold-weather gear. 2017 will be another year of love, fun, wonder, and adventure!