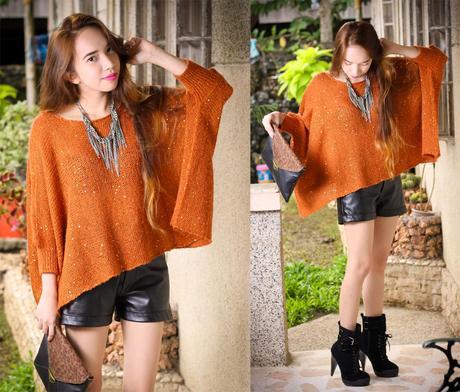 Look 318
Rustic Element
Sequined poncho sweater and SDY leather shorts, PINKaholic. Leather / animal print clutch and necklace, Forever 21. Black suede buckle boots, HeelandSole.
Hello dearies! Here's my LOTD. Well not what I'm really wearing today, more like yesterday's look.
First of all, I know we are all giddy for summer. Some of you may have been starting to collect swimwear and anything summer-inspired items but….I suggest we should not let go of our baggy sweaters and jackets yet. This news goes out to all Filipinos out there. It's been raining for weeks now and it feels like crap to be honest. Teehee!


Fear not, just because the weather sucks doesn't mean we'll ditch our creative pegs. With the rainy season staying for a tad bit long, I'm thinking of wearing my jackets, leggings, tights, and most especially my sweaters over and over again. While it does leave us with a few choices, that's prolly the time where you could hone your mixing and matching skills. Haha!
Perfect for the cold weather!

My new babies! Another pair of badass boots. Hard to put on yet comfy to wear. Thank you Kariza!


Looks like I'll stoop on this front porch for a while. Not literally though… Oh well!
Forgive the sudden change of my blog's look. Something's up with my last theme. You couldn't even leave a comment I bet. Boyfie had to do a major overhaul with everything Every friggin' thing!! Booooo….
Stay wicked!