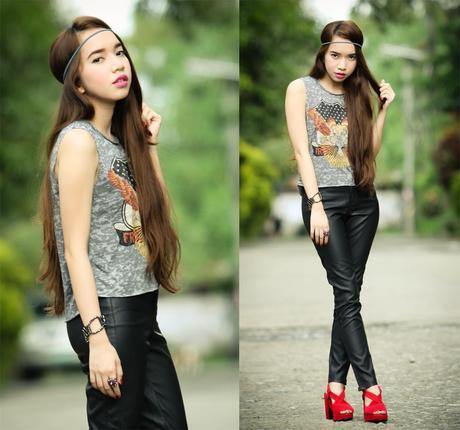 Look 309
Lady Rebel
Gray camouflage top, Topshop. Leather pants and headband, Forever 21. Red shoes, Love Jen.
Another ME look. Haha! I could very much wear this outfit on any given day. Teehee!
Now this is the leather pants that I was dreaming about long before. I can't friggin' believe that this pair wasn't that much of a sell out at F21 Cebu. I mean look at it, it's the best pants ever….even better than denim right?!

On another note, I'm starting to dig this hippie headband thing. Bought this thin band along with other colors at Forever 21…again! I also got one from Binky, a twisted purple/mustard turban. I don't know how to put it on without messing my hair though. Will try to wear it again next time! Promise!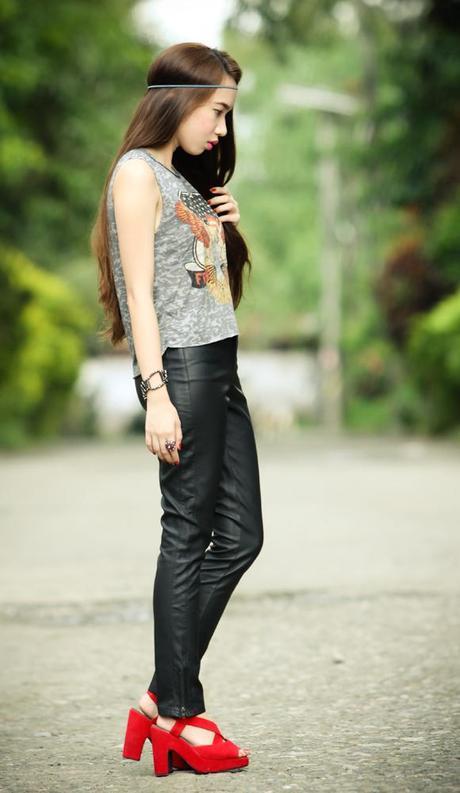 Ok fine I know my shoes are too "low" for your taste. Not even worthy for a Valentine night out soooooooooooooo good news, I bought a pair of DAS 16. Yep, DAS my shoes and DAS where I spent my savings at the moment! Booooo… That's my early birthday present for myself. It's never wrong to treat yourself once in a while, agree? Lol! Wish I could blog about it soon.. Can't wait to wear those babies out.
Take note, it's boyf-approved! Haha!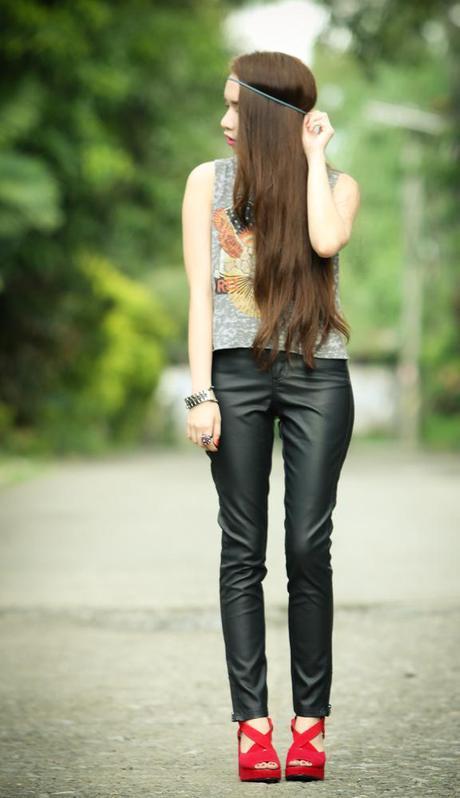 How the pants look like upfront. I never really liked the way my bod is posing straight to the cam. It shows my rather wide hips which I don't like. Pfffft!!

Many have been asking what camera we're using. Here's the answer: Canon 50D (sometimes 500D) with EF70-200mm f/2.8L lens and 50mm f/1.8 too!
If it's not much to ask, vote for my look on Style Bible's Style Star.. You can vote here. That's me, the 8th nominee wearing the galaxy top and sequined shorts. Salamuch for the support!!! I owe you much!

And oh, selling some pre-loved stuff at Chikasfashionista! Just in case you're interested! 
Stay wicked!