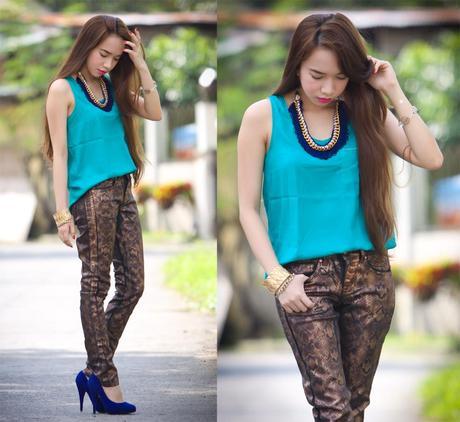 Look 304
Snakeskin Pants
Teal top, Keysa's. Snakeskin pants, Topshop. Blue suede pumps, SM Parisian. 
Look of the Day!
Yesterday, I got so many comments that my look was unusual. Quite surprised with the comments but I like it. Thankee! Haha! Well, now I'm back to my usual old self in top, pants, and a nice pair of shoesies to complete the look. 
To answer the question "What I like about my look…..blah blah blah.." Err, it's the pants obviously. I just had to work my way around it so in turn, everything might look as "put together". I had this outfit gathering dust inside the paperbag because I tend to forget wearing the combo whenever I would shoot for my 365. Now's the time!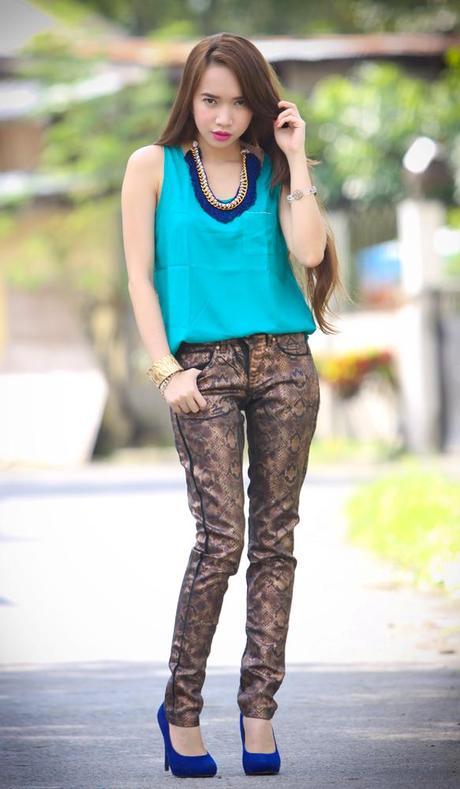 Bought the pants during my recent Cebu trip. I had my shopping haul photos taken and processed already, the only thing missing would be to upload and blog about them. Back to the pants, the main reason (and the only reason) why I bought this one is plainly because they are on 70% off. Such bargains are hard to resist right? Especially when you see the tag with the original price reaching close to 5 grand and now they're only at PHP1000+. It was the last pair on the rack too, my size. Destiny. I believe in destiny when I hunt for clothes and shoes. So many instances happened such as the story I told you. Lol!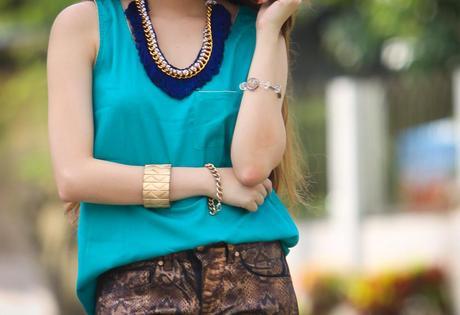 The pretty tassle necklace was sent to me by my blogger friend Binky Pitogo. I love free goodies. Teehee! You can visit her shop here and her blog here. Thank you Binkydoodles!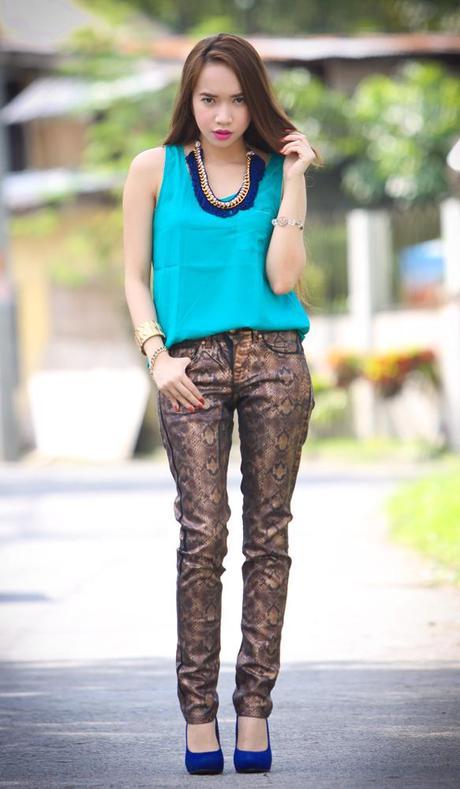 A clearer look at the pants OR let's say Anaconda-ish legs. Don't let this pair deceive you. Sure they're cute but hey, they're stiff as heck. It's as if the pair was drowned in a pail full of starch! Geeez!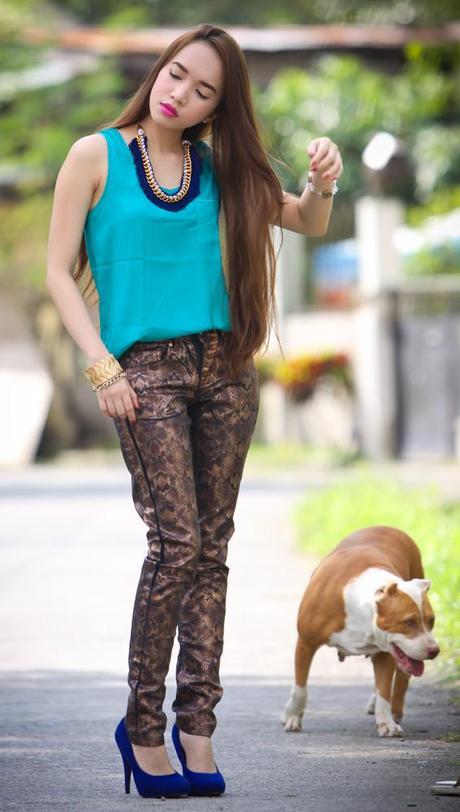 Amber, in the scene of course, and my slippers too! She's like in about 5 of the photos on this look alone. Take note of that. Haha! 
I'm in the mood for a long chitchat today as evidenced by this 380+ word count post. The weather was fine and my mood's fine as well. They're unexplainably congruent! Need I say more?! Might go out again with boyf tonight. Drinking booze at least twice a week makes me want to learn sit ups, seriously. Tummy alert — beer belly growing! Help!

Stay wicked!