Puny humans,
I come from a Galaxy far far away in peace of course, What the….. NO DON'T EAT ME…….
Hey cake lovers,
   As you probably would have guessed here at The Family Cake Company something Lego and Star-Wars Themed has been cooking. The bakery has turned into what would resemble an X-wing assembly line. Anna and Vincenzo have been working hard to bake and model a detailed rebel star fighter and other Star Wars characters, under a tight budget.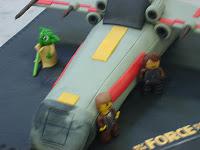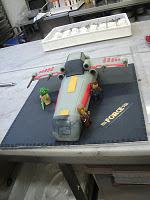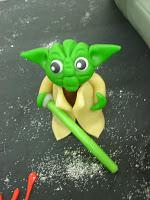 We have a few famous Jedi around the cake with none other than Luke and Anakin Skywalker along with the coolest green Jedi of them all, Yoda. Yoda is looking pretty awesome I have to say. Anna and Vincenzo did an awesome job putting him together to resemble our favourite crazy little Jedi on Dagobah.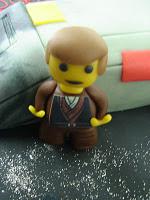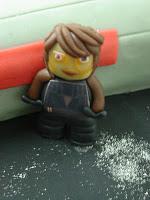 Here is a close up on Lego Luke.
Here is a close up Luke's oh so dear Dad, Lego Anakin
 Father and son bonding over cake, can anything be better?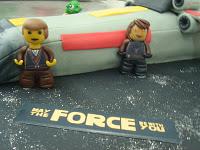 Well there it is prepped and ready to go. If you're a grown up kid or a normal child who likes the look of this jaw dropping cake, instead travelling across the Galaxy why not just order a Star Wars cake from The Family Cake Company. It will fly your stomach at light speed to happiness.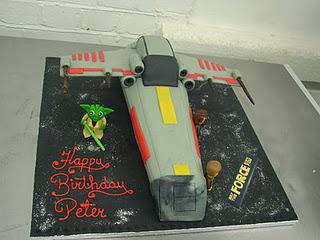 A new feature to our blogs is the 'Bakers Choice Recipe' section. This week's recipe is for a Basic Shortcrust Pastry:


Prep Time:

15 minutes

Total Time:

15 minutes

Ingredients:

·

  

200g all purpose/plain flour (see tip below)

·

  

pinch of salt

·

  

110g butter, cubed or an equal mix of butter and lard

·

  

2-3 table spoon cold water

Preparation:

This quantity makes 300g pastry.

·

  

Place the flour, butter and salt into a large clean bowl.

·

  

Rub the butter into the flour with your fingertips until the mixture resembles fine breadcrumbs, working as quickly as possible to prevent the dough becoming warm.

·

  

Add the water to the mixture and using a cold knife stir until the dough binds together; add more cold water a teaspoon at a time if the mixture is too dry.

·

  

Wrap the dough in Clingfilm and chill for a minimum of 15 minutes, up to 30 minutes.

The dough can also be made in a food processor by mixing the flour, butter and salt in the bowl of the processor on a pulse setting. When the mixture resembles breadcrumbs, add the water, slowly, through the funnel until the dough comes together in a ball. Wrap in Clingfilm and chill as above.


Come back soon for blogs about more top quality custom cakes and brilliant recipes.Hope everyone enjoyed Lego Star Wars Cake and let us know how your Shortcrust pastry turns out. From all of us at Family Cake Company, have a wonderful weekend.