Well, long time no blog! I've been busy. I've been busy driving. Four thousand miles in fact, and so it's time to report in on how our 57 Corvette went on its long road haul, and to show you a few photos along the way. Before I show the map, here's the steed itself.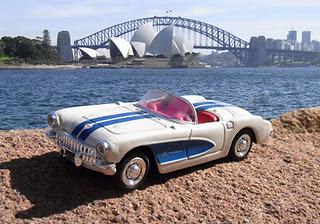 Pictured in its home town, with fairly well-known landmarks in the background, the Corvette was ready to soak up some US hospitality, burn lots of US tar, and bask in stacks of US sunshine.

And here's the map. The wriggly blue bits are the road miles. After a short stay in Hawaii we started our road trip in that den of iniquity, Las Vegas, then headed east, stopping along the way at Grand Canyon, Flagstaff, Albuquerque, Santa Fe, Lubbock, San Angelo, Austin, Galveston, Lafayette, Natchez, New Orleans, Montgomery, Macon, Savannah, Charleston, then, finally, Atlanta. At this stage we abandoned the car trip, jumped on a train to New York. Then we flew to San Francisco, then flew home to Sydney. Eight weeks, lots of miles, and here's some holiday snaps taken along the way.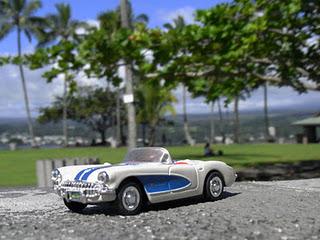 Hilo, Hawaii, on the 'Big Island', where those very active volcanoes are.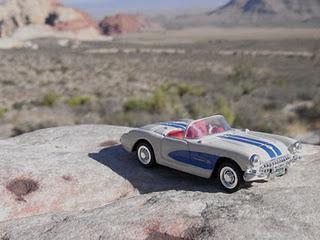 Red Rock Canyon, not far west of Las Vegas. It was cool that day, only 97°F.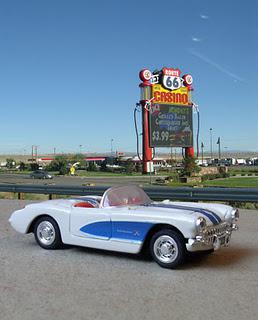 Getting our kicks on Route 66, somewhere between Flagstaff, Arizona and Albuquerque, New Mexico.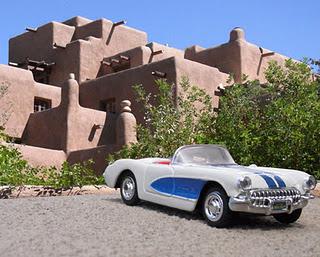 Where else but Santa Fe, New Mexico, where adobe-style is compulsory, you hear me!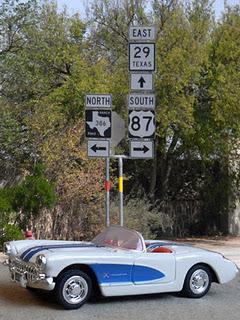 Trying to make our mind up about which road to take down in the 'Hill Country' of Texas, in the town of Mason, where everything is very German. Nice bratwurst, potato salad and sauerkraut around here.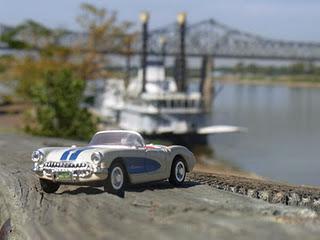 Natchez, Mississippi, with a riverboat on the mighty river itself in the background.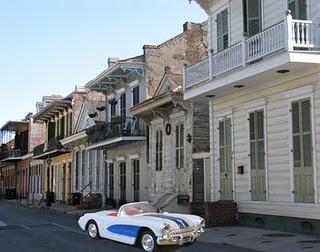 The French Quarter of New Orleans, party town.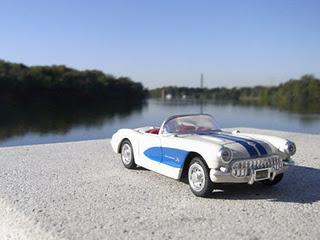 It's a lot quieter on the banks of the Alabama River in Montgomery, Alabama.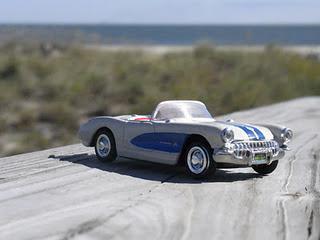 And the surf was as flat as a tack the day we visited Tybee Island, on the Atlantic Coast, just east of Savannah, Georgia.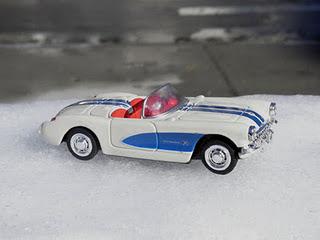 Who would have thunk that you'd get snow in New York in October, but we did.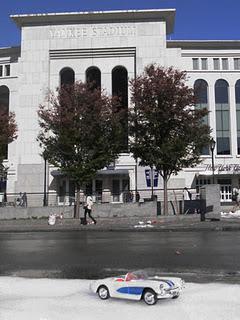 Here's the Corvette parked outside Yankee Stadium in the snow, real snow, in October.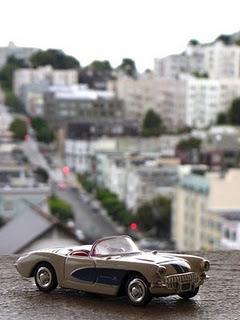 And here's the Corvette overlooking those steep, steep hills of San Francisco.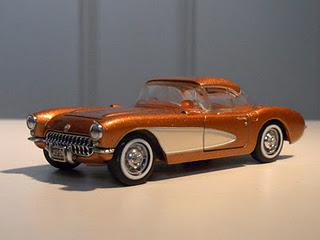 Finally, an amazing postscript to the whole long-distance Corvette story. This is the 1:43 model I wanted to take with me across the United States, a lovely bronzey-golden Corgi-Matchbox 56 model Corvette, which I bought on eBay in March 2011. It never turned up, not in April, May, June or July. I figured it was lost forever. As we were leaving on our trip in early September, I bought the cheap little 
57 Corvette which features in all our photos, as a substitute. It's not anywhere near as nice as this Corgi one, but it did its job wonderfully well. And then, a week or so after I arrived home in Sydney in early November, the 'missing' Corgi Corvette magically appeared in the mail.  The box wasn't that damaged, and nothing seemed amiss with the way it was addressed. It had just gone on its own long-distance journey for all those months, from March to November, then decided to show up when I got home.
The guy who sold me the 'missing' Corvette had kindly refunded my money after about three months of waiting, so I got in contact with him to refund his refund and pay for it all over again. He sells a lot of cars via eBay, and this golden 56 Corvette is indeed a record-setter in its own right as far as his experience goes.
And so now I have two record-setting, long-distance 1:43 scale Corvettes in my diecast cabinet: the road version, and the post-office version.