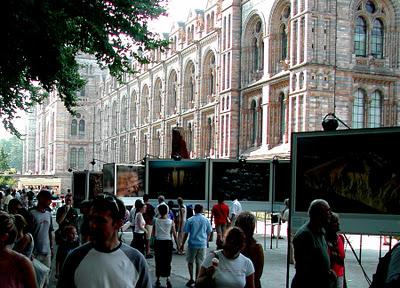 Natural History Museum, London
Here are notes of some of my museum visits from my diary of our three month stay in London in the fall of 1998.  London is packed with museums, so this is just a sampling! Click on the links for current information about museum hours, locations, etc.
Museum of London
   My other excursions last week included a trip to see the
Museum of London
, which traces the history of the city from 50,000 years ago.  (I didn't realize that until the end of the Ice Age 10,000 years ago, Britain wasn't an island and people simply walked across from Europe.)  I have never been able to keep the kings and queens of English history straight, but this museum does a good job of making it clear when and why ruling families changed.  I didn't allow enough time so I'll have to go back to find out what happened after Henry VIII.
   (A few weeks later.) On Saturday afternoon we decided to visit the Museum of London.  The museum is so packed with information that one can easily go there again and again.  One of the items that caught my attention this time was the story of building the wall around London when it was the Roman city of Londinium.  The stones for the wall came from a quarry near the mouth of the Thames and were transported by boat up the river to the city.  We know this because one of the boats sank with its load of stones and was preserved in the mud of the river.  Wedged into a hole in the side of the boat archeologists also found a pair or men's leather underwear.  Apparently some Roman sailor had tried, in vain, to use his clothing to stop a leak in this ultimately unseaworthy vessel.  
St. Paul's Cathedral
   After tea in the museum café we visited
St. Paul's Cathedral
. Unlike most other English cathedrals, which are medieval, St. Paul's is baroque, built after the earlier medieval cathedral was destroyed in the great London fire. It is topped by an enormous dome which is one of London's most impressive landmarks.  We decided to stay for the 5:00 Evensong, a sung service performed by the priests and the St. Paul's Cathedral choir.  This is a boys' choir with the soprano parts sung by little boys, who looked as young as seven or eight, and were positively cherubic in their long robes and high, fluted collars. I had been eager to hear one of the Anglican cathedral choirs after watching the Masterpiece Theater series, "The Choir" (based on a novel by Joanna Trollop), on television last year.  The boys' voices are so pure and clear and they just soared in the huge space of the cathedral.
National Portrait Gallery
   Last Monday I met a friend and toured the
National Portrait Gallery
, which is a collection of portraits of notable British people from medieval times to the present and ranges from political figures like Winston Churchill and royal personages to ballet dancers, writers and pop singers.  Most are paintings, although in the modern era there are some photos.  Almost every name is familiar from history books (or in the modern era from the news) and I was amazed at how the pictures brought the people to life and in some cases revealed a different character.  In an early picture of Henry VIII he is actually quite thin!
Natural History Museum
   On Thursday morning I finally visited the
Natural History Museum
, and I spent most of my time in their excellent dinosaur and fossil collection.  I discovered that one of the most important fossil collectors of the last century was a woman named Mary Anning and that she made her first major find at the age of eleven.  I am trying to get more information about her with the idea that I might write a story about her later. [Note: I did include her and her discoveries in my books
Giant Sea Reptiles of the Dinosaur Age
and 
Pterosaurs: Rulers of the Skies in the Dinosaur Age
.]
Victoria and Albert Museum
   The
Victoria and Albert Museum
is across the street from the Natural History Museum so I spent the afternoon there.  It has an enormous collection ranging from paintings (including more Constables and Turners) to costumes and decorative arts from all over the world.  I went to two special exhibits, one of the work of Grinling Gibbons, a wood carver who made elaborate decorations for doorways, fireplaces, mirrors, etc. in the 18th century, and the other of the work of Aubrey Beardsley, whose black and white drawings characterize the 1890's.  I did a paper on his work when I was in college, although I never saw then the quite shocking erotic drawings that were on display here.
Museum of Childhood
   On the same outing as my visit to
Toynbee Hall
, I visited the Bethnal Green
Museum of Childhood
, a museum that is packed with dolls, doll houses, toys, trains, etc. many from Victorian times but others that were more recent.  It was a bit odd to see Malibu Suntan Barbie displayed alongside China dolls dressed in 19th century outfits.  In the shop there was a series of children's books on Victorian life in Britain and now that I'm home I regret that I didn't buy one called "Victorian Toilets."
Royal Academy of Art
   One of my stops was at the
Royal Academy of Art
, which has a special exhibition of Picasso ceramics.  It is a wonderful show with room after room of all kinds of ceramics including vases turned into voluptuous women, birds and other creatures, plates painted and decorated with ceramic fish and forks, other plates with bullfighting scenes where the plate itself becomes a miniature bull ring, painted tile murals, etc, etc.  The sheer quantity and inventiveness show what a genius Picasso was.  The show was crowded and included a lot of school children taking notes and carefully sketching various pieces.  I thought to myself, what a great homework assignment!  Maybe the kids didn't think so, but most other children are lucky to see pictures of great art in books or posters.  As I came out of the museum I noticed the elaborately decorated shop windows across the street and realized that the store was
Fortnum and Mason's
, the famous food emporium.  So I went in to take a look and it was like another museum with every kind of pickled, bottled, boxed, or packaged food imaginable, all at great cost and displayed and wrapped so nicely that it seemed a shame that one would have to open the packages up to eat what was inside.