London Fashion Week:
Spring/Summer 2013 - Part I
Do you all remember who I am? I feel as though I haven't written any proper content for Vita di Moda in a few months, rather than only a few days: that's what happens when you treat your blog as though it's your livelihood and career, eh? If you read my last post entitled "FYI", then you will know that the reason for my absence was due to moving from Glasgow to Newcastle for university and that I've been a little preoccupied with course inductions, moving in and meeting some new people. Now that I've got my inductions out of the way though, I can now put all of my focus and concentration back here and get some reports done for London Fashion Week. As you know, fashion week in London kicked off last week and actually finished today so I thought it would be a good idea to just write a collaboration and bring you little snippets from a few of my favorite shows in one big post. Well, two posts. There are a lot of shows from LFW that I want to share with you - what with LDN being so innovative and eclectic and all - so I'm going to split it into two parts, with part II coming tomorrow morning so make sure you check back in for that!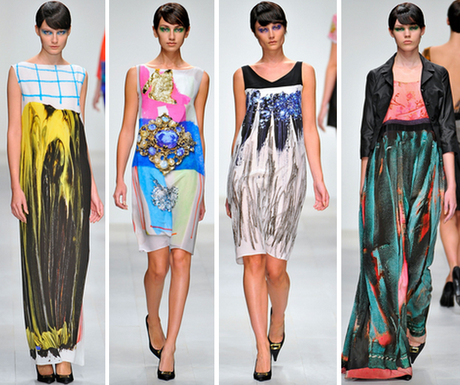 Antoni & Alison
I have to say that Antoni & Alison always catch my attention when it comes to fashion week. Their collections remind me of a class that I took at Glasgow School of Art, where we visited a Mackintosh exhibition and then created child-like pieces of art using the inspiration we sourced from our visit, which we then scanned into photoshop and then created repeat patterns to print onto fabric. That is the same kind of principle that Anthony & Alison used when designing their SS'13 collection: locked in their studio for 4 days just creating art and collaborating their end results. The outcome for the SS'13 collection? Sheer fun, imagination and a sense of simplicity in the midst of all the chaos. I love how 3D everything looks and just how something simple such as a squiggly pen mark on paper can transform into a pretty interesting print. It reminds me why I have a love of art, fashion and design in the first place.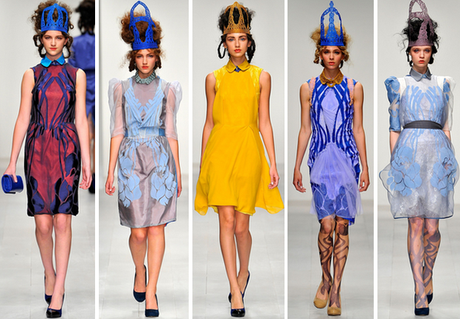 Bora Aksu
The main thing which drew my attention to this SS'13 collection by Bora Aksu is the hosiery. How amazing are those tights? The head gear is a little Bishop-meets-Burker-King-kids-party, but anything goes at London Fashion Week. The first few pieces in the collection seemed more couture in the sense that they were great to admire, but not to wear however as the collection progressed, more and more looks started to stand out as winners. In a prominently blue-hued collection, the pop of yellow was a welcomed sight and like I said at the beginning, those tights were one piece that I felt I really wanted to pull off come SS'13. The sheer fabrics and layering were a trend which seemed to have crossed 'the big pond' from NYFW and made it's mark in LDN - a trend which I absolutely love: especially when it is in the form of a rain coat or overlay top. Overall the collection was fun, colourful and exactly the type of thing that you expect to see from LFW.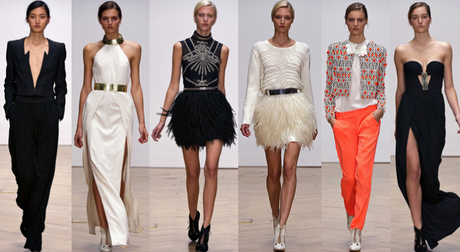 Sass & Bide

Sass & Bide is missing a Y on the end of Sass in this collection. Pops of color from coral pants and gorgeous cocktail dresses with furry bell shaped skirts: plunging V necklines and of course my favorite accessory: the reflective metal waist belt. The subtle print and embroidery details on some of the looks from the SS'13 collection are gorgeous and exactly what the collection needed to save itself from looking too flat in 

comparison

 to other shows from LFW this week. Sex appeal came in the form of thigh high slits, bare shoulders and a sneaky peak at the 

decolletage. It is a collection which could fit in at both NYFW & LFW and that is perhaps why I have taken a shine to it so much: I love the elegant and polished looks from NYC mixed in with the originality and edge from LDN.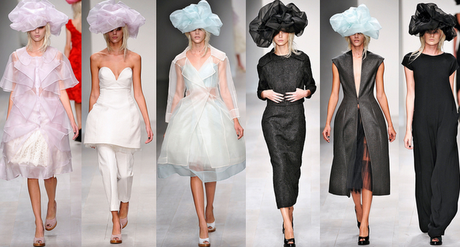 John Rocha
Initial reaction when I laid eyes on the John Rocha SS'13 collection? These girls have forgotten to take off their shower caps. Head gear like this is just a little OTT and unnecessary in my opinion, but then again, LDN does what it likes and doesn't form to any specific ideal. The clothes themselves were gorgeous however: cotton candy-esque dresses and pants in sheer fabrics (again, also seen at NYFW) of blush, white and red soon turned into a darker, edgier woman with nipped in waists, cropped & full length jackets, solid black lines and gave off a very sophisticated and powerful vibe. The John Rocha woman is one of good taste, but not to be messed with.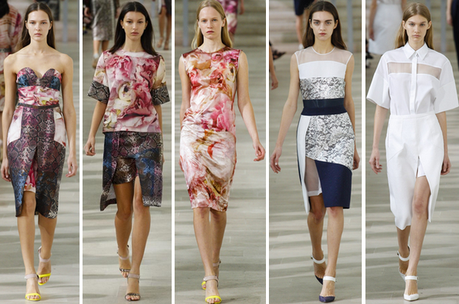 Preen
Flirty florals mixed with deadly python - this is exactly something that appeals to me: hard with soft. Edgy yet simple enough to be worn by any woman. The boxy, over-sized T-shirt silhouette in the shirts and dresses is another feature that was seen at NYFW this month and I absolutely love the little sheer, peek-a-boo panel on the white shirt to the right there. The shapes seen at Preen were very space age-y and I think it is safe to say that women everywhere will be sporting their intergalactic sides come SS'13. Designers from Alexander Wang to now Preen have shown this style in their Spring/Summer collections and have definitely set the trend in stone - better start channeling you inner Katy Perry E.T now in preparation.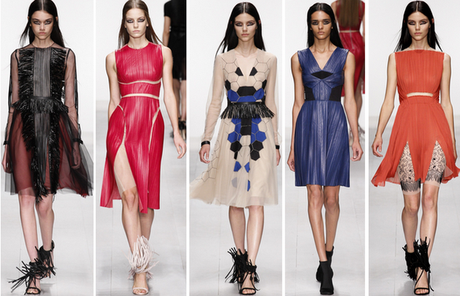 Marios Schwab


Marios Schwab showed us a variety of ways to wear fringing for SS'13 in a collection full of brightly coloured leather, chiffon and tulle. Again, the space age feeling came through on the catwalk, especially with the models makeup and the print used on some of the looks. The middle image above for example resembles the light panels seen on the bottom of a Hollywood movie UFO. I think this 

particular

 trend will be interesting for SS'13, as there are various ways to incorporate it into your looks: from fringe detailing to abstract prints or even just in the form of a statement necklace. Everyone will be able to indulge their alien sides and I think I might just try it out too. The raspberry pink leather dress shown above featuring floating panels, much like the entire collection from Alexander Wang might just be the way in which I adopt the trend!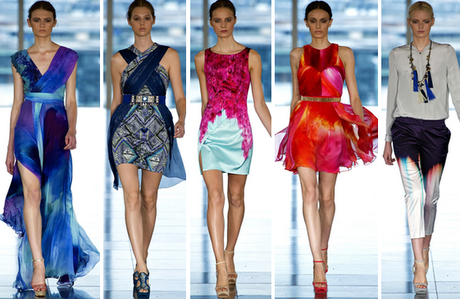 Matthew Williamson


Half tutti frutti, half bleach dip dye. The opening looks from Matthew Williamson's SS'13 collection featured blazers, shirts and trousers all in dip-dye with a look that resembles those badly processed photographs that you would 

receive

 from disposable camera's back in the 90's. I absolutely love it. I have already added the trousers to my wishlist for Spring/Summer however I'm wondering how difficult it would be to attempt a DIY and replicate something similar? The second half of the collection was a mish-mash of colours - each look in the same staple color hue - which created a nice sense of flow and movement: Almost like a sunset, or when an orange sky melts into the blue ocean beneath it. The collection was 

definitely

 stunning and one of my favourites from LFW this season.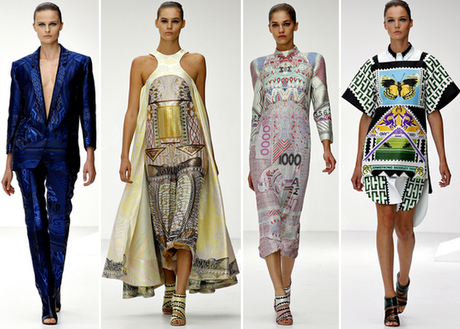 Mary Katrantzou
Large, over-sized postage stamps. That was the main designs from Mary Katrantzou's SS'13 collection and what a collection it turned out to be. Being the queen of print, it was hardly a surprise that she would create something of this stature, however I'm pretty sure it has enough wow-power to influence the most conservative of women to try and incorporate a little print into their Spring/Summer wardrobes next season. My favorite look had to be the satin blue trouser suit shown left above. I probably wouldn't adopt both pieces at the same time, however the trousers would have the power to remain one of my wardrobe staples for a long time after SS'13 - I'm not one of these people who pack away clothes in preparation for a new season. I like to mix everything. This collection is one that has inspired me for the coming season and I can't wait to see how the high street will interpret it for the mass market. 
Look out for Part II tomorrow!
Photo credit: vogue.co.uk - edited on Polyvore.