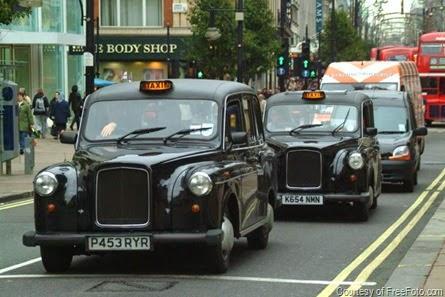 Today London's black cab drivers headed for Trafalgar Square
in protest at the threat to their livelihood from Uber. You can summon an Uber cab from your smartphone, and it will collect you and take you to your destination for less than a black cab would cost. 
Though the official objection is to the unlicensed use of meter apps, that's not really the issue. Cabbies who have spent years acquiring
The Knowledge
and hold the whole network of London streets in their heads resent this newcomer using apps and satnavs muscling in on their territory and undercutting their prices.
It seems to me that the issue has a lot in common with Big Publishing's problems with Amazon. Like the Big Five, London's cabbies have enjoyed a virtual monopoly, and their prices have risen to the point where I don't take cabs any more - I can't afford the fares. Now Uber offers a digital alternative - cheaper and more convenient - no more waiting to hail a cab, just tap into your phone. 
Cabbies want Uber to go away so things can go on the way they always have. 
But the new technology won't go away. Unless the cabbies can persuade the government to block Uber, they will have to adapt in order to survive, even if that means being more competitive on price, accepting internet bookings and abandoning The Knowledge.
The internet has radically changed the way people do business. If you don't want to change, then you will find an outsider changing things for you. Publishing's outsider was Jeff Bezos.