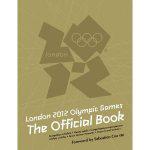 London 2012 Olympic Games: The Official Book, published by Carlton, £12.99, available from all good book shops and online
Fans of Girl on the River might have noticed that so far I haven't said much about the 2012 Olympics. I can't deny that I was pretty disappointed not to get any tickets, and might even have been in a tiny bit of a huff. But, in true Girl form, I have bounced back and am now burning with Olympic Fever. So when I was asked to review the Official Olympic Book, I was pretty chuffed and all hard feelings were put to one side. The book – proper title – London 2012 Olympic Games THE OFFICIAL BOOK, is being launched on 18th April by our very own rowing hero and four times gold medal-winning Olympic champion, Sir Matthew Pinsent, and is accompanied by a genius Twitter campaign called #AskMatthewAnything.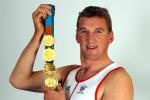 Sir Matthew Pinsent - rowing royalty and Nice Man
In common with most of us, I have long been a fan of Pinsent's. Quite apart from the awe and wonder with which I regard his rowing career, it seems that he is a thoroughly nice man. Far from swanking around enjoying his status as rowing royalty, he is an enthusiastic supporter of youth rowing and turns up to events with his sleeves rolled up, happy to muck in. A couple of years ago, at the Junior Sculling Head at Dorney Lake, he quietly helped Son on the River's (distinctly novice and undistinguished) crew to lift their boat off the water; it was only afterwards that they realised who the friendly fellow with the strong arms was. That truly embodies that Olympic spirit.
Anyway, hero worship aside, back to the book. I had expected something big and glossy – a coffee-table, hard-cover number. Instead – rather like Pinsent himself – the book is (despite its distinctive gold cover)  surprisingly modest, not in content but in appearance. It's only available in paperback and is smaller than A4 in size. Once on the inside, though, it is a fantastically fact-packed, nicely illustrated volume. It takes you through the history of the Olympics, introduces you to the 2012 venues and then proceeds, discipline by discipline, through all of the sports represented at the Olympic Games, noting quirky facts alongside tips about which athletes are the ones to watch.
Chez Girl on the River we spent an entertaining weekend breakfast time leafing through the book. Son on the River II helped to make it a fully multimedia experience with the help of YouTube, playing clips of great Olympic moments. There's still plenty more to read and I shall now be that tiresome person who bores anyone who will listen with my new stash of Olympic factoids.
So where does #AskMatthewAnything come in? To celebrate the launch, you are invited to put any question you like – however random or crazy – to Matthew Pinsent. A selection of the questions will be chosen and put to Sir Matthew himself and his answers will appear on Twitter (and on here, I promise). To participate, tweet your question, accompanied by the hashtag #AskMatthewAnything, @carltonbooksPR and @girlontheriver. If you're not on Twitter, put your question in the comment section below and I'll pass it on on your behalf.
I've kicked off with my own question this afternoon. What is it? Ah, well to find out you'll have to follow me first – @girlontheriver.
Go on, ask away.
London 2012 Olympic Games: The Official Book, published by Carlton, £12.99, available from all good book shops and online.