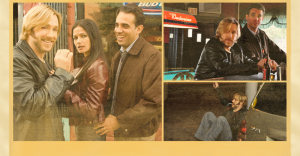 Everyone loves Sookie's gran, played by Lois Smith. She is now to star in a new movie called Roadie. It is directed by Michael Cuesta (Homeland on Showtime) and revolves around a character called Jimmy Testagross (played by Ron Eldard).
The film made its debut at the Tribeca Festival a week ago. This festival sprung out of the disaster that was 9/11 as a way to bring some joy back into New York.
The story tells the first 24 hours after longtime roadie for the band, Blue Oyster Cult, finds himself without a job. He returns home to his mother (Lois Smith) who lives in Queens. Jimmy is an intentionally flawed and unlikable character, unlike the home he returns to. While this movie is all about Jimmy's journey, it also shows with a gentle sincerity, the community that is present in Queens, and in particular, Forest Hills.
While it is not showing at any major cinemas yet, it is certainly a movie to look out for.
Source: Movie Line- Ron Eldard and the Cuesta Brothers on the New York Film Roadie, and What Makes the Tribeca Film Festival Better Than Sundance
(Photo Credit: Roadiemovie.com)