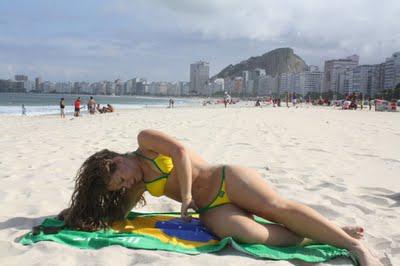 London is warming up nicely for next years Olympics. Nicole Scherzinger ex-Pussycat Doll has just popped over and opened the £1.4 billion Westfield shopping centre in east London, Europe's largest urban shopping mall and gateway to the Olympic park.
Yes, we've had some riots and our last couple of summers have been on the chilly side. But we have Lord Coe and Boris. What could possibly go wrong?
Our thoughts turn to golf's inclusion at the next 2016 Olympics won by the city of Ro De Janeiro.
One of the big questions is who should design the Olympic golf course? A few hats have already been thrown into the ring; Greg Norman, Arnold Palmer, Annika Sorenstam, Lorena Ochoa and Nick Faldo.
Sir Nick, to his friends, has come up with an idea to select eighteen past champions and each design a single hole.

Golf Refugees idea would be to use local talent. Please select a Brazilian architect and course designer(s) to build the Olympic golf course in Rio de Janeiro.

Brazilians look great in Brazil and tourists just look like well, tourists. I'm sure the locals will design a great looking golf course.
-------------------------------------------------