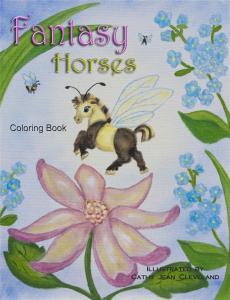 Local Horse Artist Gives Back

I am so proud to announce my 'Fantasy Horses Coloring Book' is now published and available on Amazon, but more importantly; I want to share my success! I am donating 100% of my royalties on all coloring book sales from now until 2-26-2013 to Miranda's Horse Rescue for Large and Small Animals.

I want to give a GREAT BIG Shout Out to Shannon Miranda and his crew for all they do! As a local Eureka resident, member of the horse community and parent I want to personally thank them for the countless horses and other animals they have rescued and re-homed. It takes a big heart and lots of money to feed all those mouths. This is our chance to help out. Spread the news…tell all your horse and animal loving friends.

I will be posting an announcement letting you all know how much money we were able to raise for Miranda's Rescue. Please help me to make it a number I can be proud of! Click on the link below to purchase a 'Fantasy Horses Coloring Book'. Buy one for your kids, grandkids, a friend or give as a gift. You'll be helping animals in need and getting a great horse lovers coloring book to boot.

The clock is ticking…click the link below right now!

Fantasy Horses Coloring Book on Amazon

** The donation amount raised and paid out to Miranda's Rescue will be posted on my blog http://cathy-cleveland.artistwebsites.com/myblog.html and on Craigslist (Humboldt County, Ca) under farm and garden approximately March 1st…. when It is made known to me on Amazon Sales Information for Authors.
Click Here for More Information