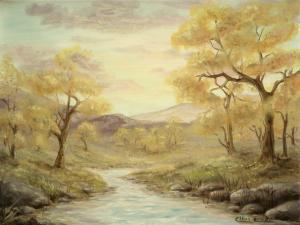 Yeah! You've decided to decorate with art! The idea of decorating with art is so basic that we've been doing it since cave-man days. Yet art is one thing that so many people neglect to add to their interior spaces. Why is that? I believe that many do not hang art because they believe they can't afford it or they just don't know what to buy. I'm here to show you that buying and choosing art is simple, fun and rewarding!

Buy only what you love! Let's face it. Art is personal. The clothes you wear, the way you style your hair and the things you keep around, all say something about you. They're all a reflection of your personality. Don't feel like you have to go with the crowd when it comes to choosing art. If you just don't 'get it' when it comes to Abstracts, it's quite alright. If you're a Country girl at heart, let it shine! Art is a beautiful way to let your personality come through in your interior design. It's your home, not a waiting room. Choose something dear to your heart. You'll love it forever.

Still not sure? No worries. Choose art that embodies something you admire. Look for pieces that remind you of something wonderful. Something wonderful from your past or something wonderful you'd like to make part of your future. If you've always loved watching graceful dancers, perfect. If you have a long time fascination with mermaids, you're on to something. If every time you see a romantic tropical setting and you get all goose bumpily thinking of your lover…you're getting the idea. A theme emerges. You might find yourself decorating a whole room around your art! Suddenly you'll find your self in a space that you love to be in. That's the idea!

What if you feel like a total art moron and nothing talks to you? Should you even be allowed to hang art? Absolutely! There is art for you too! Simply choose the art pieces that best enhance your space. Look for three things. One, pieces that have all or most of the accent colors in your room. Two, art that supports the style or theme of your room. Three, pieces that work well together. It's not unlike choosing an area rug to enhance what you already have in place. As if by magic, your whole room will look 'pulled together'. Who knew you were such clever designer?

Now that you know what to look for when buying art, let's address the issue of affordability. You know that art can run anywhere from many thousands of dollars for an original oil painting, to cheap posters and everything in between. No matter what your budget, there is art available to you! Just buy the best you can afford. You can always upgrade later to nicer frames or something on canvas. You see, what you pay for it isn't really the point at all. What really matters is how it makes you feel when it's around. The sole purpose of art is to bring you pleasure right where you live today.

Make a point to look at art whenever you get the chance. Some of it you'll hate, some of it you'll love, some of it you won't understand. The more you look, the more you'll develop your own taste and deepen your appreciation for art. It's fun too! And when you find that special piece for your home, the pleasure will be all yours!

Now I am able to offer my artwork on gift items as well at CathysFineArtGiftShop

If you enjoyed this blog feel free to share it with a friend!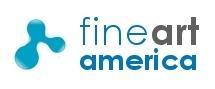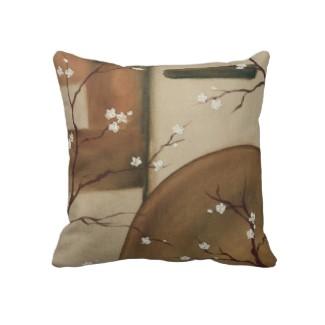 Blossom Throw Pillow by CathysFineArtShop
Shop for another
pillow
.