When I first moved to AZ I had that moment where my mind started racing about "who is going to do my hair now?" and "who's going to do my nails??" I wasn't concerned about finding a dentist, or a bank, or the nearest grocery store. Just to give you guys another example of how important this was to me... I still don't have a dentist. Go me.
When I give myself this time to relax and get pampered I seriously feel myself falling asleep half the time because I'm so relaxed and at ease. I had my nails done twice at two different places in AZ and I was noticing a common theme... huge lack of talent and extremely high prices. My experiences had been so awful I decided I wouldn't be getting my nails done for the remainder of my time in the desert. 
About 6 months later I was sitting at my computer in Scottsdale and after having a particularly stressful day I thought "screw it, I'm getting my nails done." I jumped on Yelp to search nail salons and I chose three different business, went to their websites, and did some research. Upon looking at Teres' website  I was instantly impressed with their website, their services, and most of all their competitive prices. Plus, it was two minutes away from my location. I called them up and made an appointment. 
On my first trip I was super lucky and landed an appointment with the lovely Mindy. During my appointment we made small talk and I discovered they had only been open for two weeks. Brand new! I was excited for them. My first appointment went really well and I couldn't have been more impressed with the establishment or my final result. THANK GOODNESS. I finally found somewhere and an artist that I love.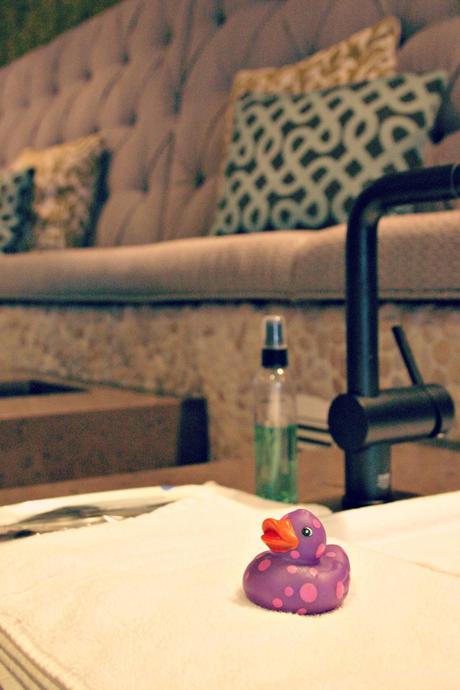 When you get a pedicure you also get a fun rubber ducky friend to hang out in the water!
Upon meeting the darling owner Courtney I knew I found a business run by good people and I'm super excited for her business to be a huge success. She had a very similar story to mine. She would go to salons, pay way too much, and leave with ok to mediocre results. It costs a lot to get a service done monthly and you have to LOVE your nails when you leave. Even though she could afford to have the service done, she felt the industry was seriously lacking and needed a major change. And boy, she did it! Not only do you get high end spa services at a super competitive price you also get wonderful service and beautiful results. 
The salon its self is fresh, modern yet cozy, and come on now.... they have aloe water. Courtney did an amazing job when hiring her team as well. She knew she needed to hire people by their talent but most importantly by their character. You can train someone on nails, you can't train someone to be a good person.  Seriously check out their website HERE and see their services and prices! All my readers outside of AZ, come visit me already. 
We'll get our nails done.


This was my first experience with Aloe Water and oh my gosh. It will change your world. 
You can follow Teres here:
1-Website
2-Facebook
3-Twitter
4-Yelp
I am super simple when it comes to my nails. I usually do a gel manicure with one solid color. I'm the easy customer for sure. They offer all sorts of fun nail art from the glitter ombre, to fun designs, to the whole water color technique. They can do anything you want! Especially my girl Mindy. Even though I'm loving this fun neon purple, I can't wait to try the orange.