"Thus the sage knows without traveling. Understands without seeing.  Achieves without doing" – Lao Tsu, Tao-Te Ching
The iconic Tao scripture is painted on the restaurant's Eastern wall in bold, black lettering.  It's what greets patrons upon entering Vagabond Kitchen in South Park.  No hostess.  No wait list.  Just a dimly lit wall of far-out Far East wisdom.
After wandering to a table (no assigned seating, take your pick) the atmosphere begins to change.  You start to notice the wine racks, the French words on the menu, and the strange accent of your server (Brazilian, maybe?).  What the hell is going on, you ask yourself.  I thought this was like, pan-Asian or something.  Apparently not.  Apparently Vagabond is a new mutant in the transient gene pool of California dining.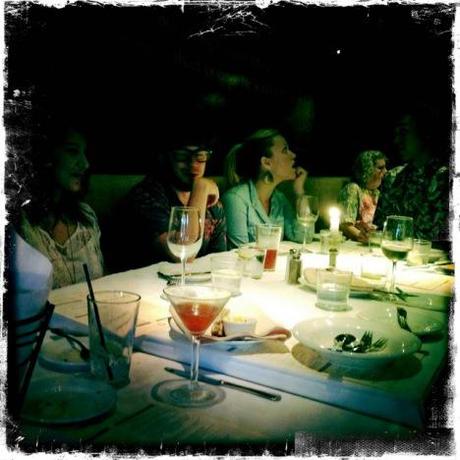 The menu reflects the "palatable journey around the world" boasted on the restaurant's website, featuring seaweed salad next to marinated olives and truffle fries.  The wine list claims an exotic selection of bottles from places like Bordeaux, Argentina, and the Rias Baixas of northern Spain.  It's a bit of a clusterf**k that adds to the confusing decor and makes you wonder how the hell Executive Chef Paul Niles is going to pull this off.  Niles has been at the helm for less than a year, after transitioning from veal sweetbreads and esgarcot at Thee Bungalow in Ocean Beach, but has already made his stamp on Vagabond's eclectic menu of French-fried Asian bistro fare.
That's no easy task in an industry already saturated with soy butters and Korean-style short ribs.  East meets West has become a cliché.  A culinary eyesore.  And yet, Niles manages to pull it off with quiet confidence and a youthful glow.  He's the epitome of the vagabond, an itinerant wanderer who follows the whim of the moment, driven by a passion for excellence that's landed him chef de cuisine positions on two coasts within the past four years.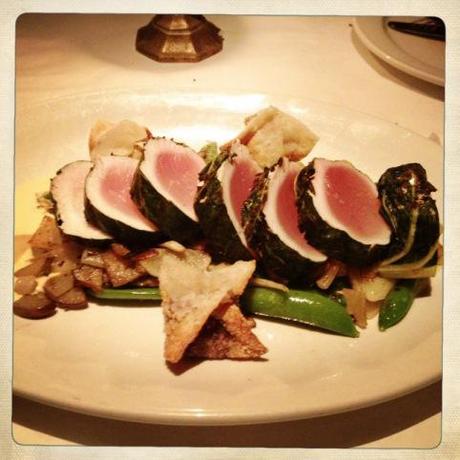 bok choy wrapped albacore
Menu highlights include the crispy truffle fries with artichoke aioli, local clams stuffed with pork carnitas in a white wine sauce,  and bok choy wrapped albacore with okinawan sweet potato wantons.  Again, a clusterf**k in a world still recovering from the Age of Fusion.  Slightly annoying for those of us who praise menu consistency.
And yet, I couldn't help but enjoy myself and the food I was served amongst legendary friends.  Especially when I accepted the fact that Vagabond doesn't care about my predispositions and  prejudice towards Asian fusion.  The menu will drift as it pleases, wandering across foodscapes and absorbing the intricate flavors of faraway places.  Meditating on taste and experience like the Taoist sage while running hellbent towards a cosmopolitan truth a la Jack Kerouac.
OVERALL RATING: B+
Pros:  Good food for a decent price.  Beautiful decor.  Extensive wine list.  Friendly staff (Chef Niles made frequent trips to the dining room).
Cons:  Scattered menu.  Too much butter.  Not the most intelligent servers.
RESTAURANT INFO:
Price: $$ (10-30)
Address:  2310 30th St, San Diego, CA 92104
Phone:  (619) 255-1035
Hours:  Mon-Thu 4pm – 10pm; Fri 4pm – 12am; Sat 10am – 12am; Sun 10am – 10pm
Website:  www.vagabondkitchen.com