LMFAO is consisting of rappers, dancers and duo magnificent DJs, Redfoo and Sky Blu. Their music incorporates a theme of partying and drinking and some other say its "rock party" kind of genre. Their mission is to make the world a party planet, one city at a time.
Their facebook fans page is worth to check out. As a standar they have Band Page App, Tour Dates and Vimeo Music Video. But the funny things is they preparing link for their fans to play Bopler Games with their song as a soundtrack. You can play 6 music games with your favorite  tracks, challange your friends and get the rewards.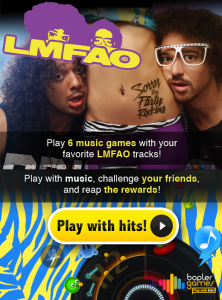 about LMFAO it self
The electronic dance and hip hop duo LMFAO got together in 2006. The two members are Redfoo (Stefan Kendal Gordy) and SkyBlu (Skyler Austen Gordy). They are a son and grandson respectively of Motown Records founder Berry Gordy, Jr. Their own relationship is that of uncle and nephew. Attendance at Miami's annual dance-oriented Winter Music Conference helped inspire the future music of LMFAO. The pair performed their music in clubs until signing with Interscope in 2008.
LMFAO's first single "I'm In Miami Bitch" was released in December 2008. A clean version was also recorded titled "I'm In Miami Trick." The song was a minor hit and rose into the top 30 at pop radio. It landed in the top 10 in the UK. A full-length albumParty Rock followed in the summer of 2009. The album reached #2 on the Electronic album chart and climbed into the top 40 on the overall album chart.
MFAO's next step forward came in April 2010 when they appeared as featured artists on David Guetta's worldwide hit "Gettin' Over You." The song went to #1 in France and the UK while topping the dance charts in the US. "Gettin' Over You" entered the pop top 40 in the US as well.