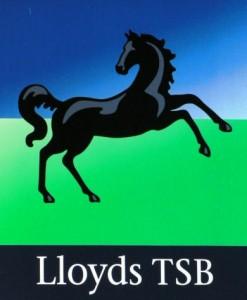 Lloyds has admitted shortcomings in the handling of PPI complaints at a centre set up to deal with PPI mis-selling.
It comes as an undercover reporter at the Times said staff at one of the bank's complaints handling centres had been taught to "play the system".
The reporter said he was told to ignore possible fraud by Lloyds salesmen and that most complainants would give up if rejected the first time.
Lloyds said it had identified issues at the centre independently.
It added that it believed that some of the comments made to the reporter were "isolated" and were now being addressed.
The Times reporter said he was told that a job as a PPI complaint handler could be "morally difficult" and that they should effectively turn a blind eye to the risk of fraud.
Payment protection insurance (PPI) was designed to cover loan repayments for policyholders who became ill, had an accident or lost their jobs.
Yet it was mis-sold by banks on a massive scale to customers who did not want or need it.
Retraining
"Earlier this year we became aware of issues at a PPI complaints handling centre called Royal Mint Court in central London," Lloyds said in a statement.
"This site was operated for us by a third party supplier, Deloitte. Following further investigations we took immediate action, and in May concluded our contract with Deloitte and moved to a new supplier.
"Some of the comments made by trainers to the Times reporter are not endorsed by Lloyds Banking Group and we believe they do not reflect our high training standards or our policies," it continued.
"We believe the comments to be isolated and they are now being addressed. Following the discovery of these issues and under the guidance of a new supplier the employees are currently undergoing retraining in line with our policies and procedures."
To date Lloyds has paid out £4.3bn to 1.3 million customers who were victims of the PPI mis-selling.
A spokeswoman for Deloitte said: "[Our] role was to process PPI mis-selling complaints from Lloyds Banking Group customers who were sold policies by the bank, in accordance with the bank's policies and procedures.
"In processing claims in accordance with those bank policies and procedures, we provided a high level of service throughout the period."
She added that the contract came to an end in May as Lloyds moved from three contractors to two – but that this was not the result of any shortcomings in the handling centre.
Deloitte also does some PPI work for Barclays, but a spokesman for the bank said that this involved back-office administrative tasks, rather than making decisions on PPI claims.
The Barclays spokesman added that there had been a review of Deloitte's work, but no problems had been identified.
'Clear warning sign'
BBC business editor Robert Peston said the allegations were "massively embarrassing" for Lloyds – especially as it had come in a week when MPs and Lords are finalising a report on how to improve standards in banking.
A spokesperson for the Financial Conduct Authority (FCA), which regulates banks, said: "We expect all firms to comply with our rules and treat their customers fairly.
Read more on BBC news website