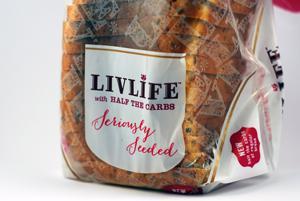 Livlife low-carb bread hit the shelves of Waitrose stores across the UK on 22 July. Backed by a major advertising campaign with the strapline "Bread is back", it has immediately generated a lot of publicity in the national press.
As my regular readers will know, I am very much into my low-carb baking, so I am intrigued. I know how hard it is to get the texture and the taste right when baking at home, let alone when creating a commercial product on a major scale.

 
So can Livlife bread be as good as all the hype promised? Obviously I had to investigate.
Livlife low-carb bread – ingredients
Livlife "Seriously seeded" bread contains the following ingredients: Water, wholemeal wheat flour, wheat gluten, mixed seeds 10% (brown linseed, sunflower seeds, pumpkin seeds), wheat protein, kibbled soya, soya flour, wheat fibre, sunflower oil, bran, salt, yeast, malt flour, preservative calcium propionate (added to inhibit mold growth), wheat dextrose, emulsifier mono-and diacetyl tartaric acid esters of mono-and diglycerides of fatty acids, wheat flour, vegetable oil (palm oil, rapeseed oil), flour treatment agent ascorbic acid (vitamin C). Information as provided on the packaging and on the Livlife website.
As you can see the main ingredient is still wheat flour – this alone makes it unsuitable for gluten-free and Paleo diets.
Carb content is lowered by adding 10% mixed seeds, plus soya flour and proteins isolated from wheat and soya.
In addition to wheat and soya flours that are heavily processed, the bread also contains some chemical additives and preservatives. Livlife opted to include their full names rather than E-numbers (I guess it looks marginally better), but the following ingredients are chemical food additives with associated E-numbers:
calcium propionate: E-282
emulsifier mono-and diacetyl tartaric acid esters of mono-and diglycerides of fatty acids: E472e
ascorbic acid: E300
So make no mistake – although its carb content is lower, this product is just as full of processed stuff and additives as conventional sliced bread. If you are following Paleo/Primal eating plan, or just simply trying to eat clean, than this product is definitely not for you.
To be fair to Livlife though, they made no claims with regards to being natural or chemical-free, and it's not any worse than any other bread you would find on a supermarket shelf.
Livlife low-carb bread – carbs and other nutritional info
Per 100g Per slice
Energy 1096kJ 285kJ
kcal (Calories) 262kcal 68kcal
Protein 25.9g 6.7g
Carbohydrate 14.6g 3.8g
(of which sugars) 3.2g 0.8g
Fat 9.2g 2.4g
(of which saturates) 1.2g 0.3g
Mono unsaturates 2.6g 0.7g
Poly unsaturates 5.1g 1.3g
Fibre 8.3g 2.1g
Sodium 0.34g 0.08g
(Salt equivalent) 0.86g 0.22g
Information as provided on the packaging and on the Livlife website.
This carb content is indeed much better than regular sliced bread, which is usually around 40-50g carbs per 100g. This is the main selling point for Livlife bread and I must admit that they definitely got it. If you are going to be in Waitrose or any other supermarket looking for low-carb bread, this would definitely be the one with the lowest carb content.
However – if you were to take the time to make your own low-carb bread at home, most recipes based on almond or coconut flour usually deliver lower carb content than this. My bread recipes typically contain around 1-2g net carbs per slice, compared with 3.8g net carbs in a slice of Livlife bread.
How does Livlife bread taste?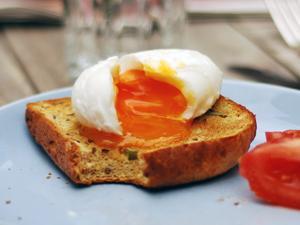 Having got my loaf from Ocado this morning, we had some for breakfast. I tasted the bread on its own, toasted, and buttered with a boiled egg.
It does actually taste quite nice! I would say pretty much as well as any other full-carb seeded wholemeal bread. The texture is dense but supple, and it toasts really well.
This is perhaps not surprising, as the bread does contain a lot of wheat and gluten. Their absence is what makes taste/texture a bit of a challenge in gluten-free baking.
So overall, full marks to Livlife on the score of taste.
Is Livlife bread suitable for specific low-carb diets?
As this bread contains wheat and soya, this makes it off limits for most specific low-carb plans.
Livlife bread on Atkins Diet
Processed grains are definitely not allowed until the final maintenance stage of the diet, and even then are not recommended due to their effect on insulin. (This is based on the original and the updated books rather than on Atkins Nutritional products).
Livlife bread on Dukan Diet
Dukan Diet is always mentioned in the press whenever they write about low-carb, because it gives them an excuse to illustrate with photos of the Duchess of Cambridge, who was allegedly a follower.  I don't blame them for wanting to print more photos of her, but they are definitely missing the point here – this bread would not be suitable for Dukan until the very final stage. While wholegrain bread is allowed during the ongoing maintenance, Dr Dukan would probably prefer you to have standard wholemeal bread, which is lower in fat than Livlife.
Livlife bread on Keto Diet
At 14g net carbs per 100g and based on wheat flour, Livlife bread would be difficult to incorporate into ketogenic diets.
Livlife bread on Paleo Diet
Definitely not – the bread is based on wheat flour, and pretty much all other ingredients (except for seeds) are heavily processed.
Who produces Livlife bread?
Livlife bread is produced by Nicholas & Harris, a Salisbury-based bakery focusing on specialty pre-packed breads, rolls and buns. Nicholas & Harris are part of Finsbury Food Group, a major food corporation making millions of pounds in annual bread sales. So definitely a big industrial player, with enough cash to invest in a nation-wide advertising and PR campaign for their new product.
Livlife bread – the verdict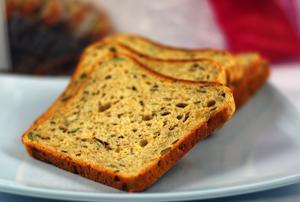 Although definitely lower in carbs than conventional supermarket breads, this product is still too high in carbs and heavily processed ingredients for most standard low-carb diets such as Atkins.
If you are serious about eating low-carb, you would be much better off either avoiding bread altogether, or baking your own bread at home from nut-based flours and seeds. It is much easier than you might think, and there are plenty of recipes out there.
You can find some recipes on this website: almond flour bread, coconut flour bread. There are hundreds of other recipes out there for breads that are gluten-free, free of chemicals and lower in carbs than Livlife. Check out my collection of low-carb bread recipes on Pinterest.
Livlife bread is a good start!
Having said all that, I think that it is overall a positive development that a major supermarket like Waitrose is now aware enough of the low-carb trend to start stocking low-carb products.
Livlife is definitely a better choice than standard bread, so if there are people who start buying Livlife instead of their normal white or brown sliced bread, then they would end up lowering their overall carbs intake.
Finally, I am grateful to Livlife for all the publicity they generated, and the fact that low-carb dieting is being discussed in the press as a viable dietary choice. While their product may not be perfect, it is the first genuinely mass-produced mainstream one, so let's hope that there will be more to follow.
Am I being biased against this product?
Obviously, I would be delighted if you use my recipes for home-baked low-carb bread or buy your low-carb baking ingredients from my shop.
I realize it would be easy to say that I am biased against Livlife for this reason, but I hope you would agree that I tried to be as objective as possible when compiling this review. All the points I made about ingredients and their suitability for low-carb diets are based on factual information.
The only subjective point – the taste of the bread – was actually, in my opinion, one of the positive aspects.
Where to buy
Livlife bread is now available from Waitrose and Ocado, at £1.99 per 500g, so it is easy to get hold of.
What do you think?
Have you tried it? Do you agree with what the points I raised?
Please post your comments below and let's discuss!